Harrowing Bodycam Video Shows Firefighters Entering Grenfell Flat Where Fire Began
19 June 2018, 15:03 | Updated: 19 June 2018, 15:04
Harrowing bodycam footage of the moment firefighters entered the flat where the deadly Grenfell Tower fire began has been released.
The chilling video was played at the public inquiry into the tower block inferno on Tuesday.
Loud noises can be heard as the crew, from a North Kensington station, entered apartment 16 on the fourth floor.
They broke down the door at about 1:07am on June 14 2017 and entered a smoke-clogged corridor.
The crew can be seen rooting through the flat, before thermal imaging showed a bright yellow glow in the kitchen.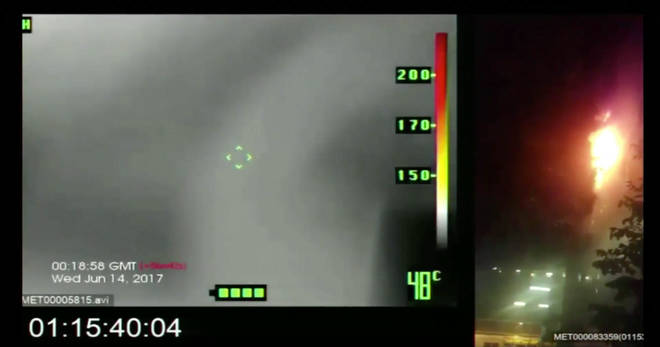 "The yellow glow that you can see is the fire," Professor Niamh Nic Daeid, the director of the Leverhulme Research Centre for Forensic Science at the University of Dundee, told the inquiry.
Firefighters can then be seen spraying liquid at the fire, which was put out in the flat at 01:20am.
However, mobile phone footage played alongside the thermal imaging shows flames beginning to spread up outside the building at the same time.
The professor said: "The yellow glow that you can see is the fire that is down at the window ledge in the kitchen.
"The firefighters attempted to put out the fire and we can see there the hose reel is attempting to put water on the fire.
"They close the door and they open the door again to see that the fire is still present.
"At this point the firefighters spend some time discussing what tactics they can use to tackle the fire that is in the corner of the kitchen."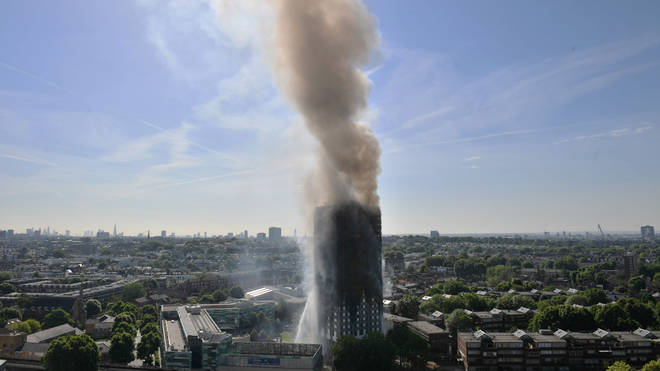 Embers could be seen falling from the tower's external facade at 1.08am, the expert said, and the blaze had started spreading from the kitchen window at 1.09am.
Professor Nic Daeidhas said the fire, which killed 72 people, definitely started in flat 16 but she cannot be certain it was in a fridge freezer.
The inquiry continues.