Kensington Council Gave Grenfell Survivor Out-Of-Date Milk For Her Baby
28 September 2017, 08:17 | Updated: 29 September 2017, 14:05
Kensington & Chelsea Council have been accused of making the baby of a Grenfell survivor ill by giving them an out-of-date donation.
A last night's council meeting, volunteer Loubna Aghzafi claimed a bottle of milk dated 16th August was recently put in a box of supplies to give to those affected by the tragedy.
One young mum gave it to her baby before realising the mistake and that baby now has a stomach bug, Ms Aghzafi said.
A council official said this was the first they had heard of the out-of-date milk and will launch an immediate investigation, saying: "We are on it right now."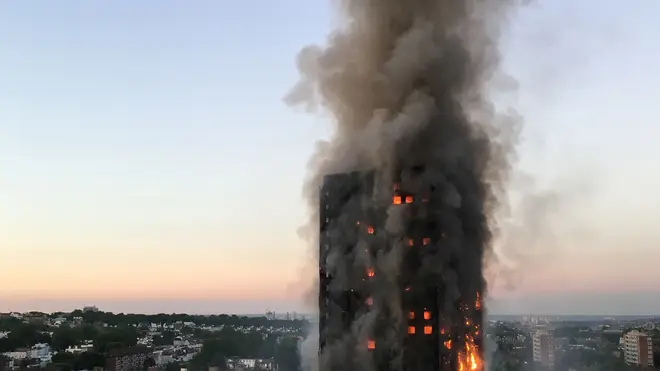 As you'd expect, the meeting was strained, emotional and, at times tears and anger spilled out.
But it was a much more muted version of the public meetings we've grown to expect, partially because it had been scheduled at the same time as the general meeting of Grenfell United, a resident's group which has been mobilising from the survivors of the tower. This meant that most of people who escaped the fire and are now living in hotels, did not attend.
A powerful speech from Cllr Robert Atkinson slammed 'external politicians' from using the tragedy to score points. He talked about Tory MP Greg Hands weighing into arguments about the route of Carnival.
He also said he'd heard a rumour Sajid Javid was planning to  unveil his new housing policy in the shadow of the tower, that drew boos and hisses from the crowd, and he recommended the Secretary of State for Communities and Local Government "go elsewhere".
The Department for Communities and Local Government confirmed this is not true and there are no such plans.
We also learned that 20 families are now living in permanent homes, six have moved in and 14 have stayed in their once 'temporary' ones.
The tower, now isn't going to be wrapped, or covered up, until January. It was going to be hidden from view by November.
And, just like last time, there was no sign of former leader Nick Paget Brown or his deputy Rock Feilding Mellen.