Police Finalise Number Of Dead At Grenfell Tower At 70
16 November 2017, 07:16 | Updated: 16 November 2017, 07:50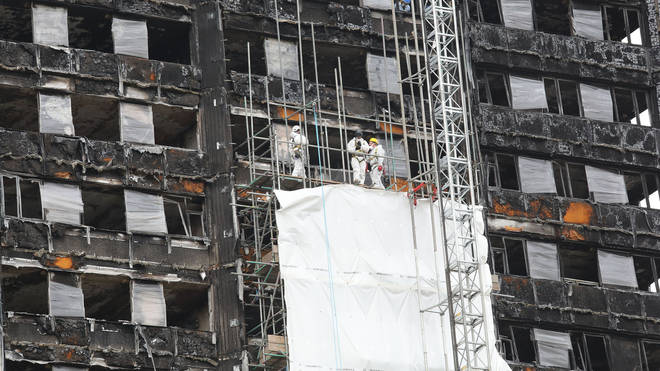 Police believe they have now found and identified the bodies of everyone who died in the Grenfell Tower fire.
They put the final number of victims at 70, plus a stillborn baby
Specially trained officers have thoroughly and meticulously searched every single flat on every single floor and every communal area.
This has included a full forensic fingertip search, with officers examining 15.5 tonnes of debris on each floor.
LBC understands the final stage of the search operation is not expected to conclude until early December. But the Met believes that based on all the work carried out so far, it is highly unlikely there is anyone who remains inside Grenfell Tower.
Police confirmed 223 people survived after escaping the Grenfell Tower, after an intensive study of bodyworn camera footage, meaning 293 were in the Tower on the night of the fire.
A number of people were also reported to police as having died in the fire as part of what officers believe to be frauds, by individuals intending to financially benefit from the tragedy.
Commander Stuart Cundy, said: "I have been clear from the start that a priority for us was recovering all those who died, and identifying and returning them to their families. I cannot imagine the agony and uncertainty that some families and loved ones have been through whilst we have carried out our meticulous search, recovery and identification process.
"Specialist teams working inside Grenfell Tower and the mortuary have pushed the boundaries of what was scientifically possible to identify people.
"The human cost and terrible reality of what took place at Grenfell Tower affects so many people. Our search operation and ongoing investigation is about those people. Tragically, that night, 70 children and adults died and a baby was stillborn. My thoughts, and those of all my colleagues in the Met Police are with all those who lost their loved ones, those who survived, the local community and all those who live with this tragedy every day.