Stormzy Takes Aim At Theresa May With Grenfell Criticism At The Brits
22 February 2018, 08:49 | Updated: 22 February 2018, 14:26
Stormzy attacked Theresa May live on stage at the Brit Awards last night, shouting "Where's the money for Grenfell?"
The grime star was rapping topless as rain poured down on him at the star-studded ceremony at the O2.
He asked: "Yo Theresa May, where's the money for Grenfell?
"What, you thought we just forgot about Grenfell?
"You criminals, and you've got the cheek to call us savages,
You should do some jail time, you should pay some damages,
You should burn your house down and see if you can manage this."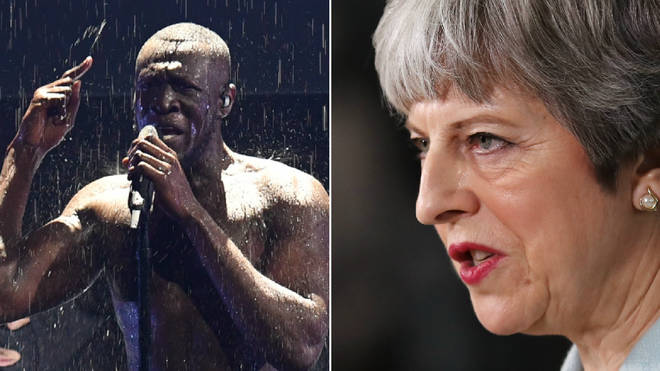 The grime star was performing at the awards ceremony, where he picked up the award for best album, on which LBC is mentioned.
Stormzy even appeared on LBC with Shelagh Fogarty to discuss the incident about knife crime that led him to write the song "First Things First".
Theresa May has responded to Stormzy's rap, with a spokesperson saying: "She's determined that the public inquiry will discover not just what went wrong but why the voices of the people of Grenfell were ignored over so many years.
"In terms of support for the people affected by this tragedy, more than £58m has been committed."