Huge Fire Engulfs West London Tower Block: New Video Emerges
14 June 2017, 04:35 | Updated: 14 June 2017, 17:01
Six people have been killed after massive fire has taken hold at 24-storey block of flats in west London.
Online video showed flames racing up the building as police and fire crews arrived.
Stuart Cundy from the Metropolitan Police said: "Our thoughts are with everyone involved in this truly shocking fire at Grenfell Tower.
"I can confirm six fatalities at this time but this figure is likely to rise during what will be a complex recovery operation over a number of days. Many others are receiving medical care.
The London Ambulance Service says more than 50 people have been taken to five hospitals in the city.
Residents have described seeing people flashing their mobile phone lights at the top of the building to try to get the attention of emergency services.
LBC has obtained a new video captures the early stages of the fire. Screams from residents trapped inside the building can be heard.
200 firefighters and 40 engines are on the scene after the Grenfell Tower caught alight just after 1.15am. Reports suggest that the London Fire Brigade's equipment cannot reach flames higher than the 14th floor of the building.
Grenfell Tower was built in 1974 and had been renovated in the last few years. It contains 120 flats.
The cause of the fire is unknown at this stage.
The London Mayor Sadiq Khan has declared a major incident.
The Met Police have set up an emergency number for anyone concerned for friends and family at Grenfell Tower: 0800 0961 233.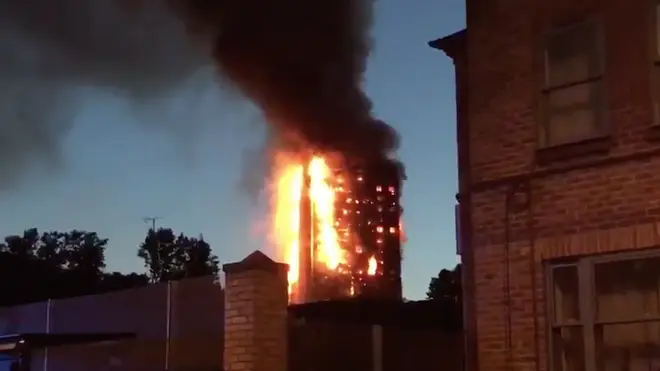 Cordons are in place and people are being urged to avoid the area.
Part of the A40 Westway is closed in both directions, after drivers began stopping to take pictures.