Extinction Rebellion protests: More than 1000 arrested over four days
10 October 2019, 22:11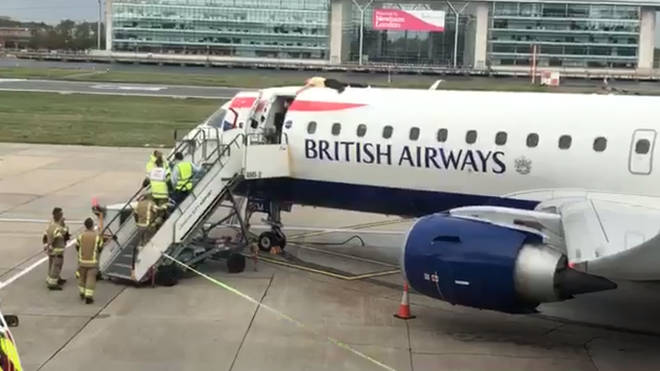 The fourth day of environmental protests has seen more than 1,000 people arrested in the capital with Thursday's main activity being focused on London City Airport.
Protesters attempted a "Hong Kong-style occupation of the terminal building" with hundreds of activists blocking the main entrance.
They also blocked the access road for the airport, climbed on the terminal roof and glued themselves to the entrance of the Docklands Light Railway (DLR) station next door.
One protester, James Brown who is a blind Paralympian, managed to climb on top of a British Airways plane on the runway at City Airport.
The group oppose the planned expansion of the airport, claiming it is incompatible with meeting the Government's legally binding commitment to cut emissions to net-zero by 2050.
Another eco-activist successfully made his way onboard a plane to try and make this point, with other passengers demanding his removal from the aircraft.
A spokesperson for the group said it was " looking highly unlikely that there will be any continuation of the mass action at City Airport tomorrow."
Around 50 of the arrests took place at the airport on Thursday, including 83-year-old Phil Kingston.
People young and old have joined in the demonstrations this week, with some of those arrested even in their 90s.
Mr Kingston said he was taking part for his grandchildren's generation and for the poorest people who "do the least" in causing "climate breakdown" but are "suffering the most."
Elsewhere in the capital, unusual scenes were seen as some streets in and around Trafalgar Square were left free for pedestrians to walk across without worrying about traffic.
Protesters sang songs and belted out chants throughout the day in a movement that has grown internationally.
Although the protests have been largely peaceful, not all exchanges with the police have been without controversy.
One officer was heard shouting "use pain and compliance" whilst arresting one demonstrator at City Airport.
The demonstrations are planned to continue tomorrow and into next week.
You can keep up to date with all the Extinction Rebellion protests here on Global's Newsroom with our Extinction Rebellion live blogs.