Holidaymakers accuse airlines of 'disgusting' exploitation in wake of Thomas Cook collapse
24 September 2019, 09:51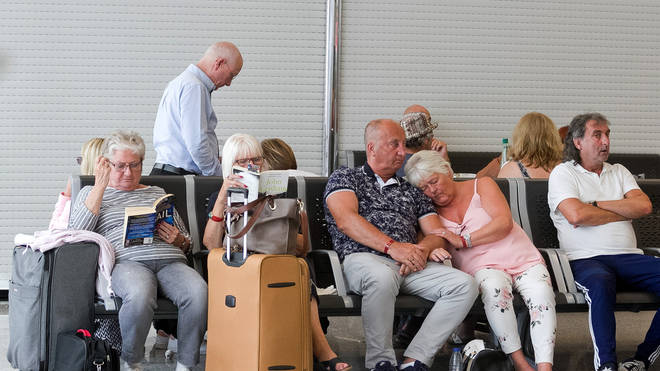 Holidaymakers have criticised a number of airlines for "disgusting" behaviour after they appeared to hike their prices in the wake of Thomas Cook's collapse.
Jet2, TUI, Ryanair and easyJet were among the airlines widely criticised on social media as customers claimed some flights had trebled in price.
Others shared screenshots showing price rises of hundreds of pounds mid-booking.
James Dunkerley, who said he was affected by Thomas Cook's demise, said Jet2's scheduled flight to Menorca had trebled in price overnight on Sunday.
"How are they allowed to do this?" he asked.
Another potential Jet2 customer Olivia Howat said she found it "absolutely disgusting" to find flights from Manchester to Tenerife had almost doubled in under two hours on Monday.
She added: "Yet another typical greedy airline."
Meanwhile, TUI customer April Hughes accused the travel firm of "profiting on people's misfortunes" as she documented her booking woes on social media.
In early tweets, Ms Hughes said she had tried to book with easyJet after her Thomas Cook flights were cancelled, but found prices had doubled.
As prices continued to rise, she added, she proceed to book with TUI - but later tweeted a screenshot of a notification that showed her flight had increased by £122 while she had been researching.
She says she eventually booked a flight to Antalya, Turkey, with TUI - via the eDreams booking company.
But this flight was later cancelled, she said, and relisted on the travel website.
A frustrated Ms Hughes wrote: "Took my money and then cancelled my flight they put the flight back up."
Global's Newsroom has reached out to Ms Hughes for more information.
Paul Drybergh, from Kennoway, Scotland, said airlines were "piling pressure" after he and his family had lost out on their Thomas Cook holiday booked for two weeks time.
"We start searching for new holidays with TUI and the prices are doubling per person as we are about to book.
"Piling pressure on everyone when we have already paid for - and lost - a holiday," he said.
In a statement to Global's Newsroom, Jet2 said its pricing was "based on the principle of supply and demand".
It added: "As supply reduces an inevitable consequence is that prices increase.
"However, we are looking at adding more supply (flights and seats) to help customers at this time."
TUI told Global's Newsroom via email that the company uses a "dynamic pricing model which means that our prices can go up or down.
"There are many variables which have to be taken into account including peak dates of travel, regional airport differences and which channel our customers book through."
The travel company went on to confirm that all TUI and First Choice bookings with Thomas Cook flights between 23rd September and 31st October had been cancelled.
"We will be contacting these customers to offer a full refund or to explore alternative options, should they still wish to travel," the statement added.
"We really feel for everyone affected by the collapse of Thomas Cook."
Meanwhile, easyJet also told Global's Newsroom via email that the company does not "artificially increase prices".
It added: "Our pricing is demand-led which means that prices rise as fewer seats are available to book."
The airline said it was also working with CAA to provide support with repatriation of stranded passengers.
"We are sorry to see the news about Thomas Cook and appreciate the anxiety that their customers will be facing now," it said.
Ryanair has not yet responded to Global Newsroom's request for comment.