Blue Story film banned by Vue after 25 'incidents' in 16 UK cinemas
23 November 2019, 20:33
Two cinema chains have cancelled all showings of postcode gang film Blue Story after a brawl involving teenagers armed with machetes broke out at Birmingham's Star City complex on Saturday.
West Midlands Police were called to the building at around 5:30pm in response to reports that a group of people had entered the complex with the large knives.
Seven officers all suffered minor facial injuries during the unrest, which saw a group of more than 100 people at the scene.
Four people have since been arrested on suspicion of assaulting police, including a 13-year-old girl, a girl and boy both aged 14, and a 19-year-old man.
A fifth boy aged 14 was also arrested on suspicion of obstructing police.
Vue cinemas cancelled all showings of the film.
In an update on Monday Vue cinemas said they cancelled the film after 25 'significant' incidents in 16 cinemas across the UK.
A spokesman said: "The film opened in 60 of our sites across the UK and Ireland on Friday 22nd November, but during the first 24 hours of the film over 25 significant incidents were reported and escalated to senior management in 16 separate cinemas.
"This is the biggest number we have ever seen for any film in a such a short time frame. 
"Despite a range of precautionary measures in place, including increased security, removal of late-night showings and reduced screenings of the film, the decision to withdraw Blue Story in its entirety was made on Saturday evening on grounds of safety alone.
"This decision is not, as some have alleged, based on biased assumptions or concern about the content of the film itself."
A spokesman for Showcase Cinemas said the chain had also banned the film, which is about rival gangs in London and the relationship of those who live in rival postcodes.
They resumed showings later on Monday with added security measures.
The spokesperson said: "The safety of our guests is of the utmost importance. Due to the recent incidents tied to screenings of the film "Blue Story", after careful consideration with the film's distributor, Showcase Cinemas has immediately removed the film from our all of our participating cinemas. "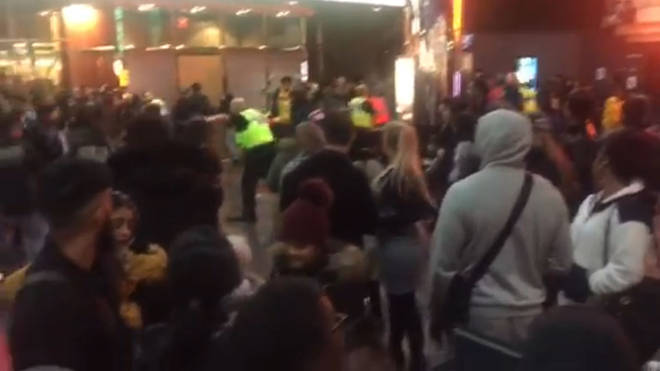 The force said "pockets of fighting" had broken out whilst other cinema attendees queued to watch the new Frozen II film.
Terrified film-goers claimed the violence was caused by a small group of young girls brawling with one another after a lone female had been set upon.
The swift response of police armed with tasers caused those fighting to flee into the cinema screens in an attempt to escape.
A number of arrests have been made in relation to the incident and a dispersal order was enforced allowing officers to arrest anyone who refuses to leave when asked.
Police said: "A number of police officers have been assaulted, and several arrests have been made."
Although, this is a great exercise to show my brother how journalism works. He's been helping me take pictures and video footage plus teeetimg whilst I'm driving. pic.twitter.com/YMUMUOWoO9

— Rachael Allison (@_rachaelallison) November 23, 2019
One 25-year-old eyewitness described it as "one of the scariest moments of [her] life," as she queued to watch the new Frozen film with her 11-year-old sister.
Choleigh McGuire, from Birmingham, told LBC News: "It all just came out of nowhere. I was with my little sister and we went to watch Frozen. I just threw her behind me.
"A policeman pointed a taser at me and her because some group of lads were behind us and they were telling them to move. The lads were completely innocent."
Ms Mcguire suggested the incident was caused by a group of girls beating up one lone female.
She added that people tried to separate the scuffle at first, but more joined in as security tried to break it up.
A dispersal order has been out in place giving officers the power to move on groups of people and arrest those who fail to leave. Officers remain at the scene and are liaising closely with management at the venue. Motorists are urged to avoid the area because of traffic build-up.

— West Midlands Police (@WMPolice) November 23, 2019
Another eyewitness said that "a young boy was crying on the floor with his mother" as a number of youths started fighting.
Rachael Allison, who was at the scene as the fighting broke out, said: "The police told everyone to leave the cinema as they held Taser guns in their hands and started to bring in guard dogs.
"I spoke to a policeman who told me it is unclear whether the kids had weapons and also stated when kids fight they bring their group of friends."
A significant number of police vehicles have been pictured at the complex and on the surrounding streets.
The incident has led to traffic problems on nearby roads, while police redirect people from the area.