Charges dropped against man who shouted 'Who elected him?' at King Charles proclamation - and he says he plans to sue the police
9 January 2023, 16:25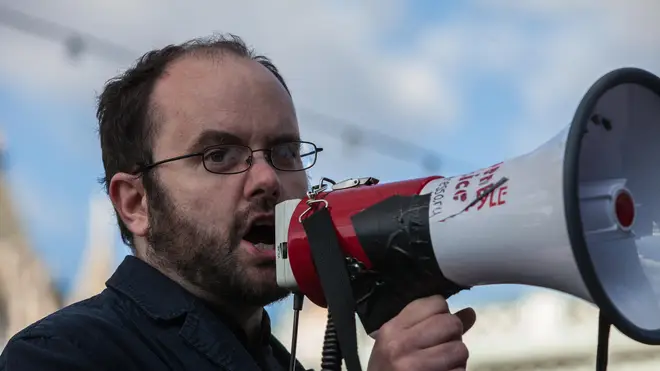 An anti-monarchy protester who was arrested for "expressing an opinion" during a King Charles III proclamation ceremony has had all charges dropped.
Symon Hill, 45, was handcuffed and put in a police van after shouting, "who elected him?", as cities across the country held ceremonies officially recognising Charles as the new monarch.
He later told LBC that he was "just expressing a view", but it was enough for officers to arrest him under the Public Order Act for behaviour causing "harassment, alarm or distress".
The self-proclaimed "left-wing Christian author and activist" said he kept quiet for the first part of the ceremony - dedicated to the passing of Queen Elizabeth II - but took exception to the next part hailing Charles as the people's only rightful lord and king.
Shortly before Christmas, Hill, from Oxford, was charged with using threatening or abusive words, or disorderly behaviour following the event at Carfax Tower on September 11.
Read more: Harry and Meghan have made life in the UK 'just that little bit grimmer', writes Andrew Marr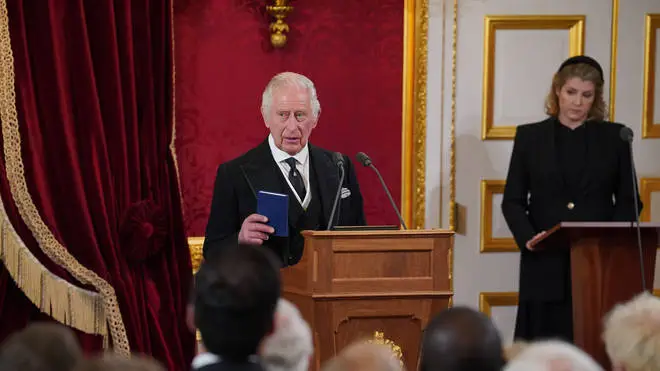 He was due to appear at Oxford Magistrates' Court on January 31, but today he announced on Twitter that the Crown Prosecution Service had dropped all charges.
Mr Hill tweeted: "The #CPS have dropped the charges against me! They've reversed the police decision to charge me over my objection to Charles Windsor in #Oxford.
Read more: Prince Harry says the Queen 'wasn't angry' with him for quitting Royal Family as she 'knew what was going on'
"Many thanks to everyone who has supported me. I'm now taking legal advice about action against the police. #NotMyKing #DefendDissent."
A Thames Valley Police spokesperson told LBC: "Thames Valley Police conducted an investigation following an incident at the Proclamation of the King at Carfax in Oxford on Sunday 11 September.
Fantastic news here.

Mr Hill was arrested for expressing a political opinion on a public street.

Good to see that the CPS has put this farce to an end.

But questions need to be answered about why the unlawful arrest and malicious prosecution happened in the first place. https://t.co/wudRSjuG1j

— Fews Lane Consortium (@FewsLane) January 9, 2023
"The matter was referred to the Crown Prosecution Service (CPS) for a charging decision. A charge was authorised by the CPS and a court hearing was scheduled for 31 Jan 2023.
"As part of its duty to keep cases under review the CPS has now decided to discontinue the matter."
A CPS spokesperson added: "We have a duty to keep all cases under review and after a further assessment we concluded this case did not meet our legal test for a prosecution.  "It has been discontinued and all parties informed of the outcome."