Revealed: Children as young as eleven rating each other's looks on Instagram
4 November 2019, 14:22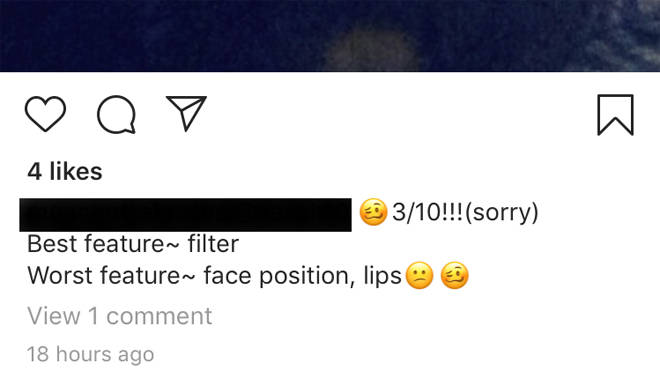 An LBC News investigation has found children as young as eleven are rating each other on their looks on Instagram.
We found 230 pages where schoolchildren are uploading photos along with a score based on their appearance.
162 of those include the school name or logo in the profile.
One woman from West Yorkshire, whose daughter goes to one of those schools, said she believes the school needed to be made aware as well as parents because the posts "could lead to bullying or mental health issues".
The pages appear when students send a selfie to an account, which is then uploaded with a rating.
The pages found are from right across the UK, including Manchester, Leeds, Doncaster Middlesbrough, St Helens, Coventry and London.
The trend appears to be popular with year seven and eight students, with some specifically stating in the name or description that the page is for year sevens or eights only.
It means children between the ages of eleven and thirteen have accounts, even though the age restriction to get an Instagram account is thirteen.
The accounts found by LBC News were created between 2014 and 2019, however, over half are dated from this year.
Pupils' comments on the posts include things like: "Okay nice photo fit 89%" or "10/10 gorgeous picture".
Young people are also given negative scores and comments including; "Hair 6/10 Face 7/20", "3/10 sorry" and "3 out of 10, best feature filter. Worst feature face, position and lips."
The Childrens Commissioner, Anne Longfield said "it's terribly sad that children are being publicly pressured in this way."
"I'm really disturbed that to see ratings on looks and popularity of this kind and it's something that the social media companies that own these sites need to be very alert to. They need to be proactively looking for trends like this and proactively looking to take them down."
Facebook, which owns Instagram, said they had deleted the examples sent to them by LBC News and that "the safety of the people who use Instagram is our top priority, especially young people."
"Under our anti-bullying policies, ratings and put downs about a person's appearance are not allowed."
The statement also said that a person needs to be at least thirteen to be on Instagram and underage accounts are deleted as soon as the company is made aware.