'Danger to life' weather warnings in place for rain and snow
14 November 2019, 05:08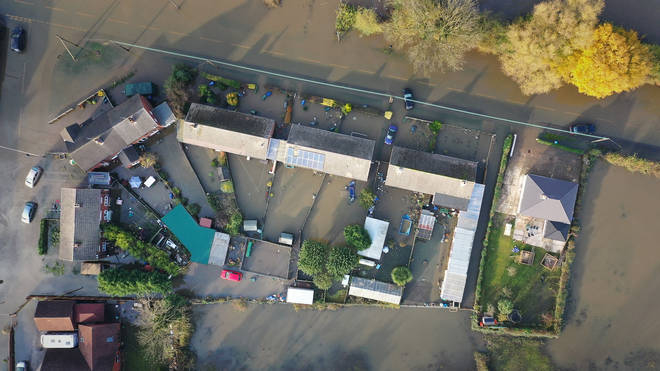 Flood-hit areas of Northern England could see more rainfall Thursday with 'danger to life' weather warnings in place across several areas
Snow fell across parts of England and Wales on Wednesday as Yorkshire prepares for further rain after days of flooding with officials warning "some communities may be cut off."
The Met Office has issued several 'danger to life' weather warnings across parts of the East Midlands and Yorkshire as more rain is forecast to fall on the already flooded region.
Areas already blighted by high water levels and flooding could see more of the same through Thursday, with warnings of possible power and travel disruption.
A yellow weather warning is in place for flood-hit areas around Nottingham, Sheffield and Doncaster, which comes into force from 9am Thursday morning.
Forecasters have said snow falling across the South West could move North and turn to rain.
The village of Fishlake in Yorkshire was totally isolated due to high water levels.
LBC News visited the area on Thursday to find out how residents were dealing with the water levels, and locals revealed they are preparing for a year-long recovery effort.
Met Office meteorologist Luke Miall said "the worst of the winter weather has now moved through" the South West, but "it's the same one that's going to push its way north and will affect the flooded areas from last week".
Forecasters have warned flooding is likely, in areas which are "very waterlogged already" saying: "Periods of rain are expected to become widespread and locally heavy across parts of England and Wales through Thursday.
"Over western areas, particularly the higher ground of Wales, some snow is also likely, with local accumulations of a few cm possible.
"Rainfall totals of 15-30 mm are likely, with some spots, particularly higher ground, seeing isolated totals of 40-60 mm."
Dartmoor was pictured blanketed in snow on Wednesday evening after temperatures plummeted across parts of Devon and South Wales.
Earlier in the week Boris Johnson annouced a special fund would be made available for those impacted by the floods.
The announcement came as flooding became an election issue with both the Lib Dems and Labour pledging more money for flood defences if they were elected in the upcoming General Election.
The Prime Minister visited flood hit areas on Wednesday where he was heckled by locals and questioned on why he didn't visit blighted communities sooner.
Boris Johnson's Labour rival Jeremy Corbyn spoke out and said: "If this was happening in Surrey, it would be a national emergency."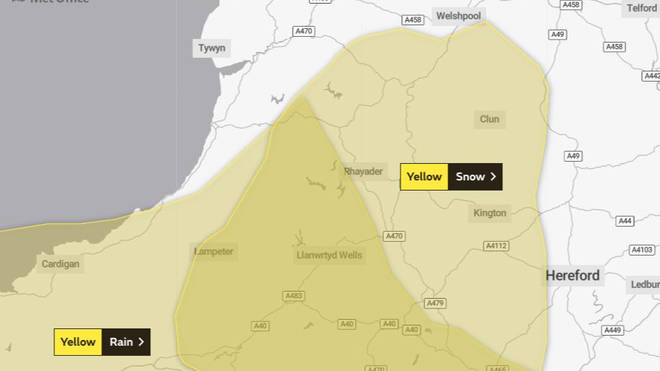 What does the weather warning say?
Further homes and businesses could be flooded, causing damage to some buildings.
Fast flowing or deep floodwater is possible, causing a danger to lifeSpray and flooding could lead to difficult driving conditions and some road closures.
Some communities may be cut off by flooded roads.
Delays or cancellations to train and bus services are possible.
Possible power cuts and loss of other services to some homes and businesses.