Extinction Rebellion: Protesters defy police ban as arrests now over 1,400
15 October 2019, 08:57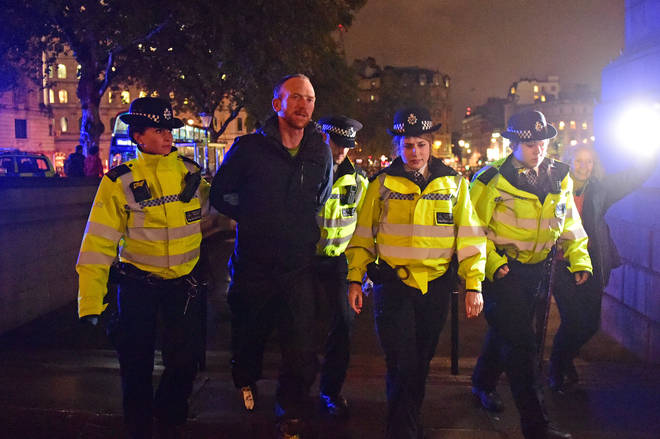 Extinction Rebellion protest action is continuing across the capital despite police ordering activists to end their demonstrations across the or risk arrest.
On Tuesday morning police confirmed they had made 1457 arrests during protests which have closed down parts of the capital
On Monday, the Metropolitan Police Service imposed conditions on protesters under the Public Order Act.
The conditions said: "Any assembly linked to the Extinction Rebellion 'Autumn Uprising'…must now cease their protest(s) within London (Metropolitan Police Service, and City of London areas) by 2100hrs [on Monday] 14th October 2019."
Scotland Yard said activists were notified of the conditions and anyone who "fails to comply with the condition is liable for arrest and prosecution."
One of the group's co-founders, Gail Bradbrook, who climbed on top of the entrance of the building in central London and "lightly" hit the glass with a hammer, said she was taking action for trees threatened by HS2.
She said: "I do this in fierce love of the 108 ancient woodlands threatened by HS2, this climate crime of a project.
"Imagine the good we could do with HS2's anticipated cost to rapidly accelerate towards our demands to halt biodiversity loss and reduce greenhouse gas emissions to net zero by 2025.
"If the Government is serious about plans to meet the net zero target they need to stop funding destructive projects such as HS2 and airport expansions."
Mrs Bradbrook was later arrested. An image from the scene showed Dr Bradbrook standing on a cherry picker outside the building.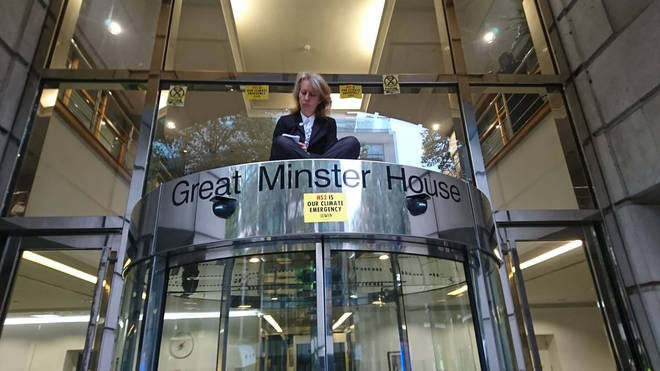 Deputy Assistant Commissioner Laurence Taylor said: "These conditions have been imposed due to the continued breaches of the section 14 condition previously implemented, and ongoing serious disruption to the community.
"We have made significant progress in managing Extinction Rebellion's activity at sites across central London over this past week.
"Officers have begun the process of clearing Trafalgar Square and getting things back to normal."
Demonstrators used Twitter to appeal to supporters to blockade the road outside the MI5 building on Milbank. The group planned to hold a "massive food sharing" event outside the offices of the Security Service "highlight food security."