Extinction Rebellion protests: Police move activists from Trafalgar Square
14 October 2019, 22:04
BREAKING NEWS: Police move into Trafalgar Square and evict the site whilst 75 Green MEPs from all over Europe have marched to join Extinction Rebellion in solidarity for the Rebels who will be homeless tonight. After a week of telling Rebels to move from other sites in London to the 'designated protest space' in Trafalgar Square, they have not announced they will be removing all protestors this evening with very little warning. We need help and support - please come and help these people out to pack away safely and provide assistance and solidarity. #EverybodyNow #RebelForLife

Posted by Extinction Rebellion UK on Monday, 14 October 2019
Police have started the process of evicting Extinction Rebellion protestors from their "designated protest zone" in Trafalgar Square.
There have been reports of a "heavy police presence", with up to 20 police vans at the scene.
75 Green MEPs from all over Europe have also joined protestors at the scene.
At 11.30pm on Monday only around 50 protesters remained in Trafalgar Square and the majority of the activists' infrastructure had been removed.
A total of 1,445 people have been arrested in connection with the protests, which started last Monday.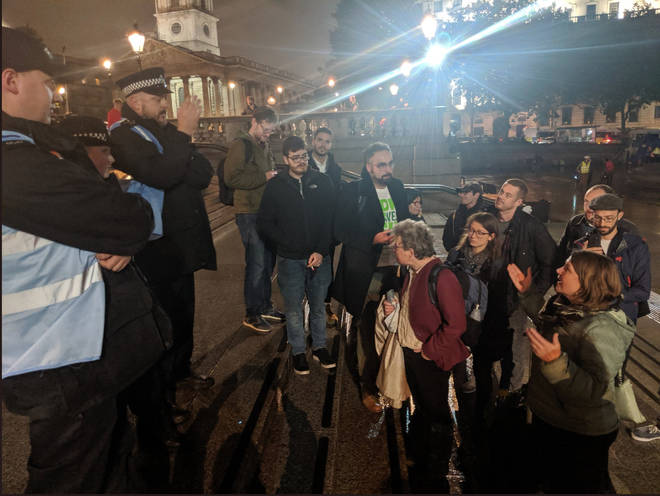 Taking to their Twitter page, Extinction Rebellion wrote: "Any rebels near Trafalgar Square? We need your support. Rather than respond to our demands @BorisJohnson wants to clear us away.
"That's why the number of people committed to NVCD is growing. 3000 people arrested globally over last 7 days."
Protestors have said: "Police are unable to offer clear explanation as to why there cannot be peaceful action."
The police action comes after police told Extinction Rebellion activists were told if the intended to continue protesting in central London they "must" go to Trafalgar Square or risk arrest.
The Metropolitan Police said: "Any assembly linked to the Extinction Rebellion 'Autumn Uprising' must now cease their protest(s) within London (Metropolitan Police Service, and City of London areas) by 2100 hours on Monday 14th October 2019."
They continued: "Protestors have been notified, and given an opportunity to leave the site. Anyone who fails to comply with the condition is liable for arrest and prosecution."
Deputy Assistant Commissioner Laurence Taylor said: "These conditions have been imposed due to the continued breaches of the section 14 condition previously implemented, and ongoing serious disruption to the community.
"We have made significant progress in managing Extinction Rebellion's activity at sites across central London over this past week."Officers have begun the process of clearing Trafalgar Square and getting things back to normal.
"Today, protestors targeted areas in the City of London, causing further disruption to people and businesses in London's financial district. Police made more than 90 arrests.
"Since the beginning of this operation officers have been working hard to keep London moving. There have been more than 1,400 arrests, and a number of people have been charged.
"The policing operation continues, and we will continue to take action against anyone engaged in unlawful protests at locations targeted by Extinction Rebellion."
The move comes after more than 500 Extinction Rebellion protesters blocked a junction outside the Bank of England in a bid to disrupt the City of London earlier today.
Activists chanted "extinction, rebellion" to a loud drum beat in the financial district, obstructing buses and stopping traffic.
Many held banners and placards bearing messages targeting financial institutions, such as "divest from climate change" and "invest in soil not oil".