Head boy, 16, steals kiss from Meghan Markle saying: 'she really is beautiful, innit'
8 March 2020, 15:24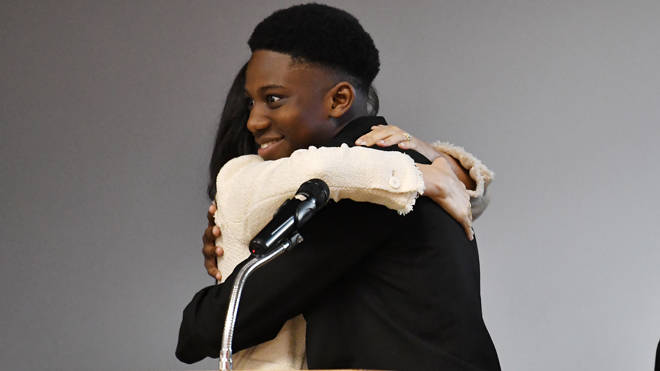 A head boy at a school in east London caught Meghan Markle by surprise, stealing a kiss and telling his schoolmates: "she really is beautiful, innit."
Head boy Aker Okoye, 16, from Robert Clack Upper School in Dagenham, was invited on stage with the duchess after swiftly volunteering to give his view on why men need to be involved in the fight for women's equality.
He said: "I just had to stand up, I had to look around because I wasn't sure if there was anybody else. I thought to myself, this day means so much to me, it'd be an insult for me not to speak."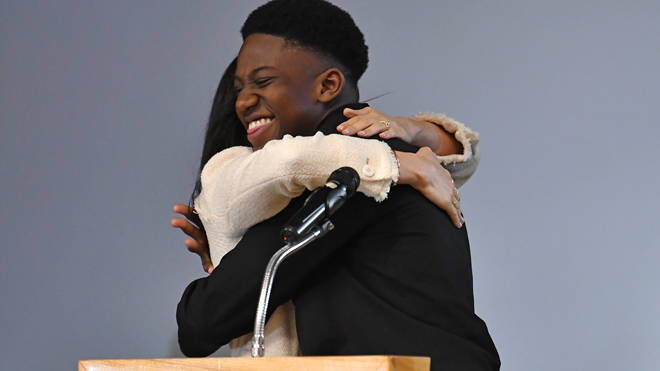 Approaching Meghan on the stage, Aker gave the duchess a peck on the cheek to rapturous applause and cheers from the gathered students.
"She really is beautiful, innit. I had to speak the truth there," he told the crowd, causing Meghan to laugh.
Later, Aker said "everyone did kind of guess" who the surprise guest would be, but he added her visit had a positive impact, especially in the current climate.
He said: "It means a lot to have her here because it's not every day that you'll meet someone from the royal family.
"With all the negative news and everything that's spread such as the coronavirus and whatnot, it's heart-warming to see there's still good in the world and we can still celebrate our achievements.
"It's good we can celebrate our successes together, it's such a special day."
The teenager praised Meghan's commitment to education and said he was grateful she had visited his school.
"I really was humbled and amazed and inspired all at the same time," he added.
"To be part of something so large, the royal family, this is history-making at this point.
"It's a great show of character that she could come here and celebrate with us today and it really is inspiring for me that she could even do such a thing."