How the London Bridge terror attack unfolded inside Fishmongers' Hall
30 November 2019, 12:07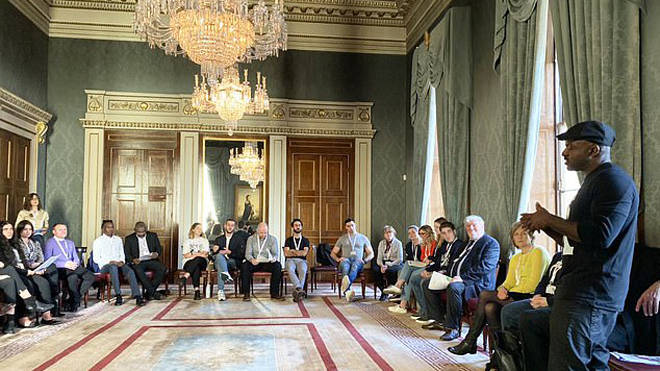 London Bridge terror attacker Usman Khan had been invited to a conference on prisoner rehabilitation when he launched his deadly attack.
He was attending the 'Learning Together' fifth anniversary event at Fishmongers' Hall on the north side of London Bridge, which included former inmates and prison staff.
It was described as a chance to 'celebrate, connect and collaborate' online.
He is reported to have attended the morning session but returned later in the day dressed all in black and wearing a fake suicide belt before launching the attack.
Prison reform activist and poet Bryonn Bain posted shortly after the attack: "London Bridge Attack. Bomb threat and stabbings at London Bridge. I'm here for the Cambridge U prison ed alumni event. Bomber is dead. Shot by London special forces. Another killed. Two injured. Evacuating to a survivors center. I'm ok. Be grateful for every day."
A photo was posted online of the gathering inside the hall.
According to the Telegraph, the attacker burst into the hall via the kitchen and targeted individuals inside while holding two large knives.
A Polish chef identified only as Luckasz tore a narwhal tusk from a wall and used it to defend himself and help others subdue Khan. According to the Times, attendees were told to 'look up' while leaving and not look down so they would not see victims.
The Metropolitan Police tweeted this morning: 'Detectives investigating the attack near London Bridge are appealing for anyone with any information to come forward. 
'In particular, officers would like to speak to anyone who was at Fishmongers' Hall yesterday.' 
Timeline of the attack
Fishmonger's Hall 1.38pm
The attack started on the north side of London Bridge shortly before 2pm. The attacker stabbed several people outside Bank station and inside Fishmonghers' Hall
London Bridge
Shortly afterwards the attacker identified as Unman Khan is tackled by hero passers-by including a chef armed with a giant narwhal tusk grabbed from a wall inside Fishmongers' Hall
Fatal shooting 2.03pm
Armed police step in, hauling members of the public off the terrorist before shooting him dead. He was shot 5 minutes after police received the first 999 call.
Borough Market
The Market was evacuated as a precaution later as police searched for potential further suspects
Witness on bus next to attack tells how she spotted 'suicide vest'
Witness Deborah Simmons was on a bus opposite as the attack unfolded on London Bridge. She told LBC News today: "We saw a man being held down that, looks like a scuffle.
"I just thought it was maybe a robbery or something and see a lot of commotion going on. Then somebody who was on the bus shouted out 'I can see a suicide vest'.
"They were all worried, everybody was scared obviously. I'm sorry, I'm a bit shaken still. This is very traumatic.
"And then next thing we know. Next thing we know, we see the place shoot the guy. People were shouting there was a vest, my eyesight wasn't quite good enough to see it personally.
"But I knew they were telling the truth because next thing, the police come running down, armed police come to the bus and said 'everybody, off now and run, get to the other side of the bridge and run'.
"I was going across the bridge and everybody was going the opposite direction towards the attacker. I was telling everybody to turn round and go the other way.
"Police have said run, it's a suicide vest. We genuinely thought we were going to get blown up on on the bridge.
"It was absolutely terrifying. That's all I can say. Absolutely horrific. Nobody should have to go through it. Obviously nobody knew that it was fake and I do believe that the police, 100% had done the right thing (shooting him dead). They had no choice, they had to because, like I said, nobody knew that it was a fake vest."
Do you know any of the heroes who confronted Usman Khan? Contact our newsroom on 0345 60 60 973 or email stories@global.com