Hundreds of London bars will soon have bleeding control kits for knife crime victims
18 November 2019, 10:49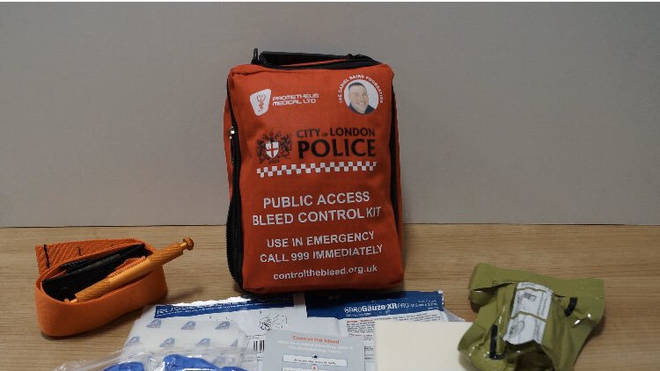 Hundreds of bars and pubs are to be given specialist medical equipment to treat knife victims after a campaign by the mother of a man stabbed to death.
320 bleed control kits are being supplied to late-night venues across London's financial district over the coming months.
It comes after there was a record high of 44,000 knife crimes in England and Wales in the 12 months to June 2019.
A pilot scheme was rolled out in Birmingham earlier this year, and the London project will be the largest of its kind.
City of London Police have called the decision a "no-brainer" to try and combat the levels of violent crime in the capital.
The force have said they will cover the cost with money raised from a late-night levy on licensed premises organised by local councils.
Chief Superintendent David Lawes told Sky News: "To not do nothing would be the travesty.
"This is a really, really simple piece of kit which can make a big difference.
"Particularly with the most catastrophic bleeds, if you don't get help in the first few minutes the person will almost certainly die."
City of London Police's Assistant Commissioner, Alistair Sutherland, said: "The City of London Police is proud to launch this initiative, in partnership with the Daniel Baird Foundation, as part of Lynne's passionate campaign in memory of her son.
"These kits will help us achieve our aim of making the City as safe as possible for the people who live, work and visit the Square Mile. 
"Daniel's death was a tragedy that no parent should ever have to suffer. The initiative we're launching with Lynne's foundation today, will help Daniel's memory go on in the lives that will be saved."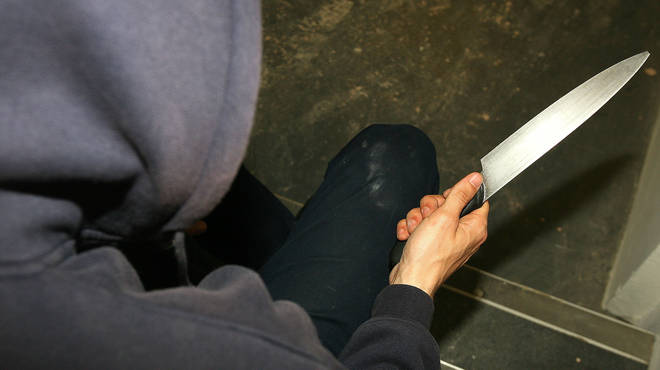 The move has come about from the passionate campaigning of Lynne Baird, the mother of Daniel Baird, who was stabbed to death outside a pub in 2017.
She said she was "delighted" by the decision but that the police should not "stop here".
"I hope that this launch today will spark more forces to join our campaign and help make these kits available up and down the country," she added.
Mrs Baird told LBC News she wanted to see the kits in all public buildings and schools, along with training for their use.
She said "first aid kits, generally do not contain anything to stop a catastrophic bleed," which she warned, "could happen at any time in any place."
Shane Roberts, a Paramedic from West Midlands Ambulance Service told LBC how the new kits work.
The idea was also welcomed by Barry and Margaret Mizen, whose 16-year-old son Jimmy was murdered in south-east London in 2008.
Mr Mizen told Sky News: "This is not a panacea to solve knife crime, the idea really is to stop so many people dying.
"And if it prevents just one person losing their life then that is no bad thing."
Mrs Mizen added: "When you lose a child to the violence the way we lost Jimmy, you really want to bring something good out of it."
And I think Lynne Baird is trying to bring something good out of the death of her lovely son Daniel. I commend her for that, I think it's wonderful."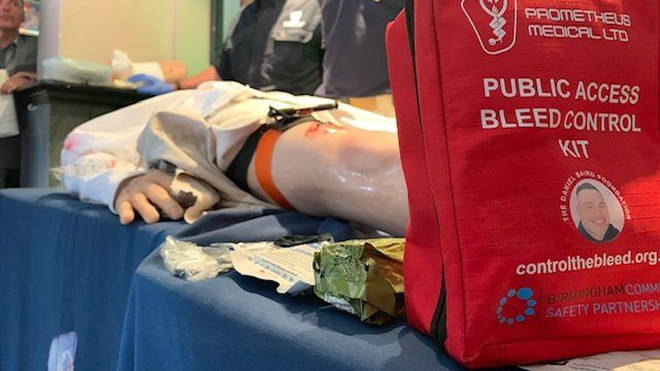 The bleeding control kits contain trauma bandages, tourniquets and adhesive chest seals to treat knife wounds or gunshots.
It is hoped that the kits will help bar staff and members of the public treat anyone suffering from major bleeds.
On average, it takes an ambulance seven minutes to get to patients suffering from stab wounds.
However, bleeding from serious injuries such as those suffered in a stabbing, shooting, car or industrial accident can prove fatal in three to five minutes.
The Bleed Control Kits can help save precious time until paramedics arrive.