Liz Truss to claim mini budget would have saved Britain £35b as she defends disastrous time in No 10
17 September 2023, 10:01 | Updated: 18 September 2023, 05:03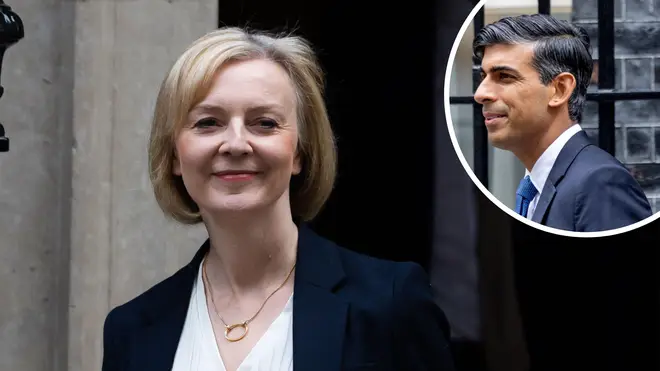 Liz Truss will deliver a speech claiming that her government would have saved tens of billions of pounds, likely deepening inter-party Conservative divisions.
The former prime minister will deliver her speech at the Institute for Government on Monday and will claim that her mini budget would have saved £35.5 billion over two years.
In her first major speech on the economy since she resigned, Liz Truss is expected to criticise Rishi Sunak's decision to give more money towards the public sector last autumn in the spring Budget.
According to The Telegraph, Ms Truss is expected to say: "What I sought to do was change the trajectory of spending by holding spending down and not allowing any new spending to take place over the coming spending review period.
"Not reopening the spending review represented a tough approach on spending, given the levels of inflation."
According to the previous prime minister, the decision would have saved £13.6 billion between 2023-24 and an additional £12.3 billion in 2024-25, compared with Rishi Sunak's financial decisions regarding childcare, defence, NHS and schools.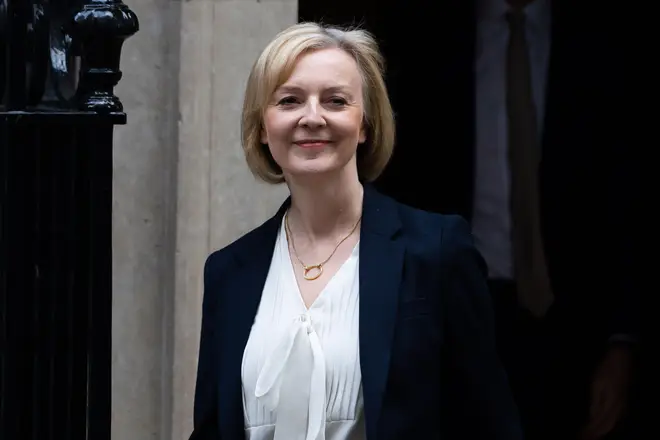 A source in the Conservative headquarters criticised this point.
They said: "Liz Truss had the opportunity to cut spending. She didn't. She had the opportunity to cut benefits. And she didn't.
"I'm not sure giving less money to hospitals, schools and policing is the winning electoral strategy she thinks it is."
In addition, a Whitehall source told The Telegraph Rishi Sunak's approach to the energy price guarantee had "saved taxpayers triple what she claims she would save by not giving extra funding to schools and hospitals."
Ms Truss has confirmed she wanted to "increase welfare benefits by wages and not prices", which may have saved £9.6 billion over two years but senior Conservatives opposed the policy.
The former prime minister is also expected to claim that she "would have saved £18.4 billion in 2023-4 and £17.1 billion in 2024-25", in relation to her benefits policy and not reopening the spending review.
However, she will add: "Even those modest savings did not command the support of the parliamentary party.
"It is a very serious issue for those of us who want to see smaller government that currently making significant changes to spending simply doesn't have enough political support."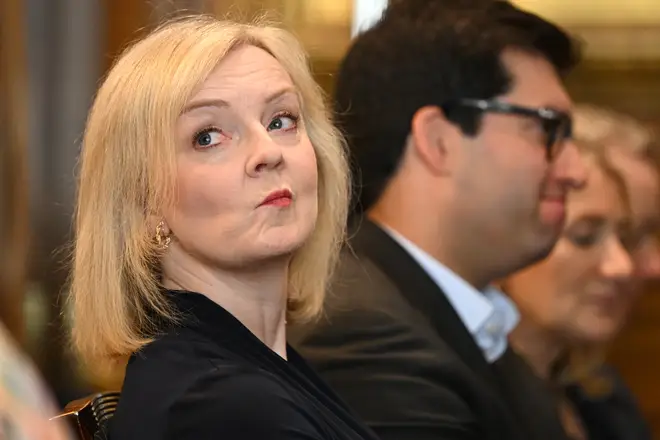 Her speech will likely exacerbate current inter-party divisions, caused by Boris Johnson's removal, the leadership battle between her and Mr Sunak, and her resignation after the mini-budget which lost £30 billion.
Read more: Liz Truss faces Cabinet colleagues after saying sorry for going 'too far, too fast' with mini-Budget
Read more: Two people 'reject Liz Truss honours nomination', as ex-PM puts forward 14 people after being in power for just 49 days
David Davis, a former Cabinet minister, claims Liz Truss' speech will discredit her own arguments.
He said: "When people ask me why I didn't vote for Truss as a low-tax Tory, I said Truss was going to give low taxes a bad name and that's what she's done."
Anonymous sources have also criticised Ms Truss' decision to deliver a speech.
One Cabinet source told The Telegraph: "After the most catastrophic premiership in the history of the country, she wants to find a way of justifying herself."
However, they agreed that the government would have to find spending cuts before the election in order to pay for a tax giveaway to voters.
Another source said it was Ms Truss' short lived premiership was due to her "maximalist" spending to subsidise energy bills but agreed with the need to find cuts for tax reductions.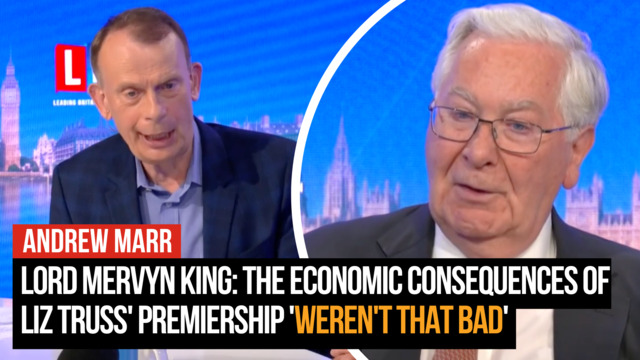 Lord Mervyn King: The economic consequences of Liz Truss' premiership 'weren't that bad'
Although, Conservative MPs have come forward to agree with Ms Truss' decision.
One former Cabinet member said Ms Truss' economic decisions "were absolutely the right ones", and said Rishi Sunak "seems like a Labour leader."