Police reveal Extinction Rebellion protesters are using more advanced tactics
11 October 2019, 17:37
The Met Police have released video footage of how their specialist Protest Release Teams are freeing Extinction Rebellion protesters in the capital.
The Met Police commissioner has admitted the Extinction Rebellion demonstrations have hampered the force's ability to respond to other crimes.
Cressida Dick says she hopes the climate change activists will "protest lawfully" or "go home".
More than a thousand people have been arrested across London this week.
David Leonard from the Public Order Branch said the Protest Release Team were working to free protesters from "wherever they are locked on - whether it's ground level or at height."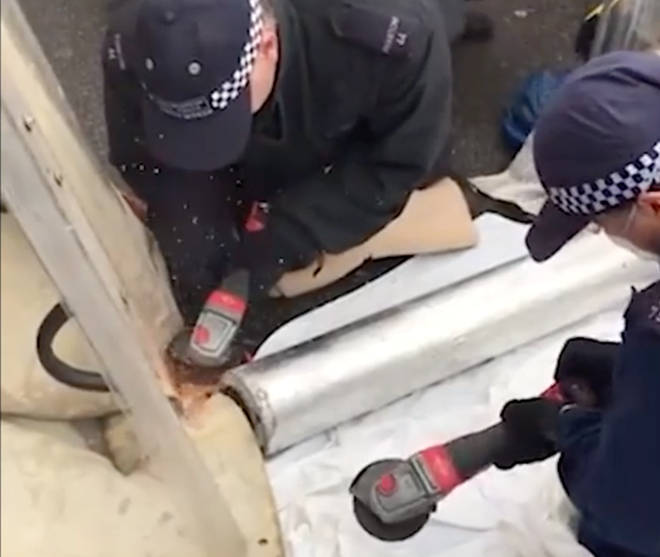 The officer went on to say at the moment they were working on "three lock-ons and a possible three others after that. "
He said the protester's tactics were getting more advanced. He told the media that rather than having a single layer tube, "we're having maybe three or four layers of tube with different materials, so it's a lot more complex and need a lot more tools to break through each of those layers."
He added there were now "lock-ons" occurring at height, which has made it more difficult for his teams and the ropes access units.
"On the ground level ones we could work with maybe five or six officers, but when we are going up at height we could be looking at 10, maybe 12 officers, just to make that area safe when we're working for us and the protestors."
"The lock-on we're working on now is probably going to take us about half an hour, but we could have some that could take an hour, and if they are at height it could take maybe two hours.
"We're getting metal tubes with different thickness, from 3mm up to 10mm, we may have a layer of concrete in it. We've had protestors making it harder and more dangerous for us, and may have nails in it, blades in it, any type of sharp metal in the concrete, and then maybe another layer of plastic or another layer of metal that we have got to get through first, plus we may have glue inside the tube as well."