Anti-lockdown protesters gather in Hyde Park with Jeremy Corbyn's brother led away by police
16 May 2020, 14:27
At least 19 people have been arrested at an anti-lockdown protest in Hyde Park.
Around 50 people broke social distancing guidelines to attend the event on Saturday, holding placards with slogans like "anti-vax deserves a voice" and "freedom over fear".
Former Labour leader Jeremy Corbyn's brother Piers was led away in handcuffs after showing up at Speakers' Corner with a megaphone and proclaiming 5G and the coronavirus pandemic were linked, calling it a "pack of lies to brainwash you and keep you in order".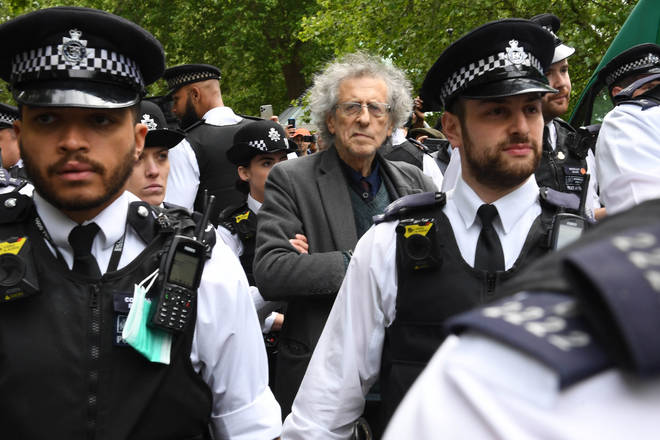 He was taken away after declining to leave when asked by a police officer and declining to give his details when asked.
Dozens of police officers, including some mounted on horseback, patrolled the protest, issuing several fines.
Standing close together near Speaker's Corner, several held placards and banners including slogans like "freedom over fear" as police, including some on horseback, looked on.
A group of about a dozen protesters also gathered on Southampton Common to demonstrate against the lockdown.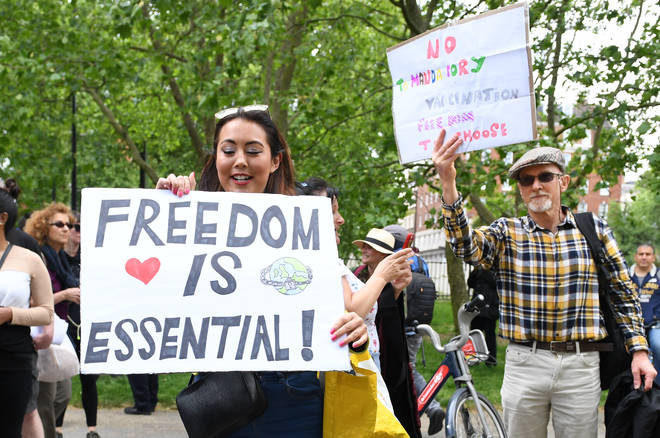 The demonstrators held placards saying "Stop the Lies", "Say no to tyranny" and "Fight 4 Freedom".
Three police officers attended and were encouraging the group to carry out social distancing.
In Belfast, police monitored a crowd of about 20 people who had gathered in Ormeau Park to denounce the lockdown measures.
Officers warned participants to socially distance and they complied. The gathering broke up without incident after an hour.
Deputy Assistant Commissioner Laurence Taylor, who is Gold Commander this weekend for the Met's response to the Covid-19 pandemic, said: "With the easing of restrictions we fully expected open spaces to be busy this weekend.
"It was pleasing to see that people were largely compliant with the Government guidance. Where they weren't, and after we engaged with them, they quickly were.
"It was disappointing that a relatively small group in Hyde Park came together to protest the regulations in clear breach of the guidance putting themselves and others at risk of infection.
"Officers once again, took a measured approach and tried to engage the group to disperse. They clearly had no intention of doing so, and so it did result in 19 people being arrested, and a further ten being issued with a fixed penalty notice."