PSNI investigate electoral fraud in Londonderry
12 November 2019, 20:34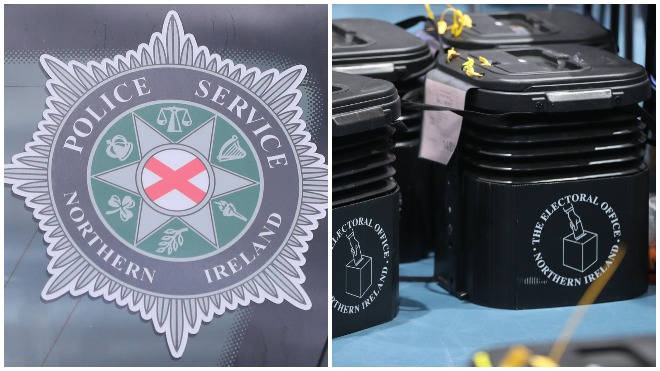 Police in Northern Ireland are investigating allegations of electoral fraud in Londonderry's Foyle constituency.
The claims were made in a Facebook post last week, suggesting that suspicious paperwork was found in a fast food outlet.
PSNI Superintendent Gordon McCalmont, said: "While no report has been made to police, we are aware of social media posts which make allegations about paperwork reportedly discovered in premises in the city centre of Derry/Londonderry.
"Enquiries are ongoing, and I would encourage anyone who has information about this to get in touch with us."
Candidates are currently campaigning in the run up to the December general election.
The Social Democrat Labour Party (SDLP) have held the seat since its creation in 1983 but were defeated by Sinn Féin in the 2017 general election by just 169 votes.
Responding to news of the investigation, DUP candidate Gary Middleton tweeted that he welcomed the investigation and hoped it would be carried out "thoroughly and swiftly".
The electorate should have full confidence in the electoral system. Recent revelations in Londonderry regarding postal and proxy votes must be thoroughly and swiftly investigated by the @eoni_official and PSNI. I welcome the investigations currently underway.

— Gary Middleton (@Gary_Middleton) November 11, 2019
The constituency was caught up in a similar scandal in 2017, when two people called Patrick Doherty were turned away from polling stations after a third man with the same name stole their vote.
Alliance's candidate Rachael Ferguson told LBC News she was concerned about "potential weakness" in the current system to prevent voter fraud.
She said: "Free and fair elections are a vital cornerstone of democracy. Alliance has a number of concerns about potential weaknesses in the current system and enforcement of rules.
"This includes the abuse of proxy votes and conduct of party representatives at polling stations. I would encourage anyone with information or evidence on these allegations or any others to bring them forward immediately."
The Electoral Fraud Act was passed in 2002, tightening controls around voter identification and absent voting in Northern Ireland.
Sinn Féin and the SDLP have been contacted for comment.