Storm Jorge: More misery to hit already flooded areas across UK
27 February 2020, 16:52
Storm Jorge is due to strike the UK this weekend, bringing further heavy rain and strong winds to already ravaged communities.
Parts of Wales and northern England could see between 60 to 80mm of rain on Friday as a third storm hits the UK in less than a month, the Met Office warned.
Strong winds are then forecast for much of England, Wales and Northern Ireland on Saturday, reaching 70mph in coastal areas and up to 60mph inland.
The Met Office's chief meteorologist Paul Gundersen said further flooding is also possible with rain forecast to fall on already saturated ground.
Flooding along parts of the River Severn, which has reached close to its highest levels in some areas, is likely until at least Sunday, the Environment Agency said.
A severe "danger to life" flood warning covering the river at the Wharfage in Ironbridge, Shropshire, remains in place on Thursday, while 82 flood warnings and 125 flood alerts had been issued.
Storm Jorge, which was named by Spanish meteorological services, is forecast to track across the North West of the UK before clearing on Saturday afternoon.
Mr Gundersen said: "This weekend we'll see another named Storm bring strong winds to parts of the UK with several wind and rain warnings in place.
"We have issued rain warnings for parts of Wales and northern England, where rain will be heaviest and we could see 60-80mm possible over the highest ground."
The Republic of Ireland is expected to face the strongest and most damaging winds, Mr Gunderson said.
The Met Office said the storm will be followed by snow over the hills and mountains in the north of the UK and rail and hail in the south, with winds easing slightly on Sunday.
Yellow weather warnings for rain are in place for the North West and South West of England, parts of Wales and Northern Ireland between midday on Friday and 9am on Saturday.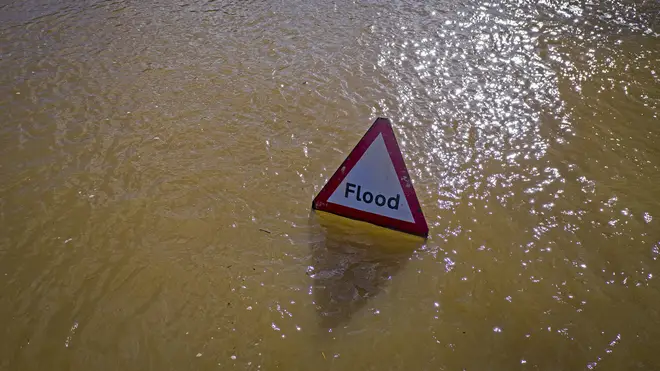 The Met Office has also issued a yellow wind warning for a 24-hour period from midday on Saturday covering most of England, Wales, Northern Ireland and south-west Scotland.
This month is already the second wettest February on record, according to the Met Office.
Total average rainfall across the UK from February 1 to 25 was 179.3mm - more than the 175.2mm measured in 2002, which was previously ranked as the second wettest February.
Whether this month stands a chance of becoming the wettest ever February on record is unclear, however.
The figure to beat is 193.4mm, which was set in February 1990.
Four more days of data - Feb 26 to 29 - will need to be combined with the current total of 179.3mm before the Met Office can publish a provisional figure for the entire month.
Heavy rain and strong winds are forecast to arrive in the UK on Friday as part of a weather system that has been named Storm Jorge by the Spanish meteorological service.
Rain warnings for parts of Wales and northern England have been issued, with 60-80mm possible over the highest ground.
The Met Office's rainfall statistics date back to 1862.
They show that the lowest February rainfall on record is 9.1mm in 1932.
The figure for February 1862 - the oldest available - is 32.0mm, which currently ranks as the eleventh driest February on record.