Streatham waitress goes viral after asking for 30 mins to evacuate amid terror attack
3 February 2020, 09:26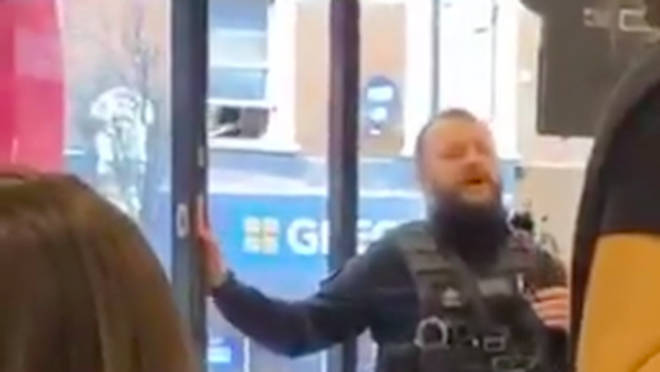 A waitress has gone viral after she asked a police officer if her cafe could stay open an extra 30 minutes after being told to evacuate due to an ongoing terrorist incident.
Customers at the Life Cafe in Streatham were sitting down to eat on Sunday afternoon when a police officer burst in the door.
"Sorry guys, you're going to have to close... you've got to evacuate, I'm afraid," he shouted to startled diners.
"There's been a terrorist incident down there...if you guys want to stay safe, you'll listen to me."
But in response, one of the waitresses can be heard asking if the place can stay open a little longer.
"Just give us half an hour," she said, adding: "People are just starting to eat."
The police officer, who appeared surprised by the request, replied: "Madam, a terrorist has been shot dead just down there.
"They've got a possible IED vest on them, which is a bomb. If you want to stay open for half an hour and you want to put people's lives in danger, be my guest.
"Please listen to me and please make your way out of the shop, turning that way and making your way out of the area."
READ MORE:
- Streatham attacker who was shot dead named as Sudesh Amman
- Man shot dead on south London street after three injured in terror attack
- Streatham terror attack - as it happened
The video was filmed shortly after 20-year-old Sudesh Amman was shot dead by armed police in the middle of Streatham High Street on Sunday afternoon.
He was shot just as he started an attack in which he stabbed two people with fake suicide vest strapped to himself.
Amman, who was under police surveillance at the time of the attack, had recently been released from prison, where he had served time for terror offences.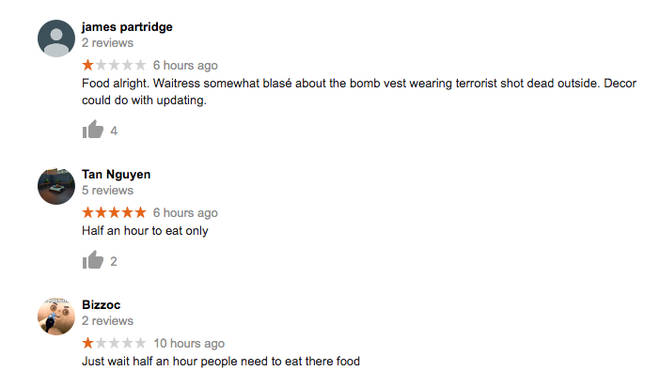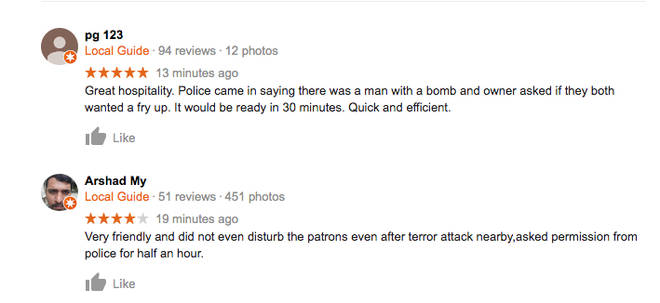 As the video from inside the cafe went viral, a number of reviews we left for the eatery on Google to poke fun at the incident.
"Food alright. Waitress somewhat blasé about the bomb vest wearing terrorist shot dead outside. Decor could do with updating," said one.
Another added: "Great service, even under a hail of bullets."