PM blames worker shortage for cost of living crisis as 1.2 million jobs remain unfilled
27 January 2022, 00:09 | Updated: 27 January 2022, 15:36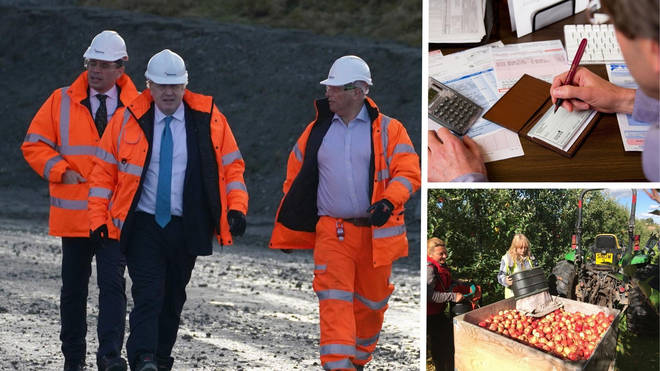 Boris Johnson has suggested a shortage of workers is pushing up the cost of living - after announcing plans to fill 500,000 vacancies.
The Government plans to withdraw support for jobseekers if they don't widen their job search after four weeks. Universal Credit claimants currently have 3 months before needing to look outside of their chosen field or face losing their benefits.
But the Prime Minister says gaps in the jobs market need to be filled to support the economy. He said that there were 1.25m job vacancies in Britain, but 1.8m people on welfare who might be available to fill those vacancies.
Mr Johnson said today: "We're coming out of Covid now and it's a fantastic thing, but everybody can see the pressures on our economy, the shortage of skilled workers, particularly in hospitality, in retail, in road haulage.
"That's helping to push up prices, that's affecting the cost of living. It's affecting inflation.
"Now, what we can do is we've got 1.25 million job vacancies in this country, 1.25 million jobs that aren't being done. But we've also got 1.8 million people who are on welfare.
"Now many of them can be helped rapidly into work, that's why we're launching the Way to Work scheme today to help them faster into the jobs that need doing across the UK.
"That's good for the economy, it's good for business, it helps to hold down inflation, but also it's fantastic for the individuals themselves because the worst thing possible when you're unemployed is to wait for too long."
People on Universal Credit are being targeted in a push to get 500,000 jobseekers in work by the end of June.
They will be forced to look for jobs outside their chosen field after just one month or face sanctions to their benefits.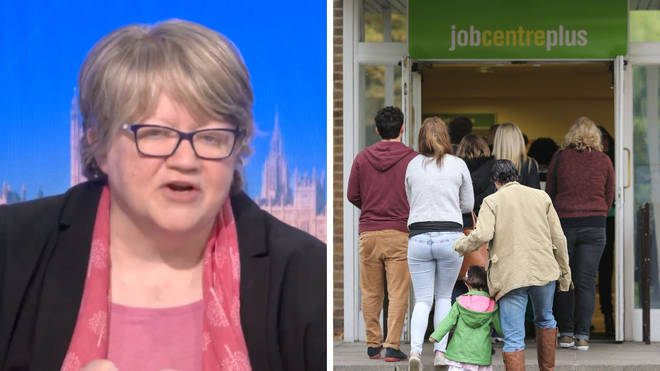 It comes as data has shown that the demand for workers is there, with 1.2 million vacancies - 59 per cent higher than before the pandemic - the Government said.
The campaign, dubbed Way to Work, is intended to target those who are able to work but either do not have a job or are earning low amounts.
Speaking to LBC's Nick Ferrari at Breakfast, work and pensions secretary Thérèse Coffey said: "There are over a million jobs to be filled and we're going to help people get into those."
She added: "There are plenty of jobs out there. We want to help prioritise in elements things like construction, logistics, health and social care, but of course there are other opportunities out there.
"I know that we do a lot of work with hospitality, more office jobs as well, all these things are important but we do know that the supply chain is important, to make sure we keep people working.
"That has an impact on the aspect of the economy… if that isn't working quite as well as it should," she said, referring to issues in logistics businesses as economies come out of Covid lockdowns.
Ms Coffey went on: "We've got partners who will be working with us, some of whom never have before by the way – they've assumed that they will go through different recruitment agencies, but we've forged a lot of new relationships through Kickstart [a jobs scheme for young adults] and they believe we've got plenty of people on our books – frankly Britons with talent who need to find the right job and get into work and get on."
Nick quipped: "You are the Simon Cowell of the government... Britain's got talent, that's what you're saying here."
Claimants will be forced to widen their job search after the shortened period of four weeks, rather than three months, with the sanctions coming in if they are deemed to not be making a reasonable effort to secure a role, or if they turn down a job offer.
Read more: Brown: Sunak brought 'Christmas of terrible distress' with Universal Credit cut
Read more: Shadow Chancellor: Tax North Sea gas firms to help struggling families
Chancellor Rishi Sunak said the move would help the country in its "jobs-led recovery".
"It's important that everyone has the opportunity and support to find a good job to help them get on in life," he said.
"That's why we're doubling down on our Plan for Jobs with this new campaign to harness the talent of jobseekers and support employers to fill vacancies, find work and create new opportunities.
"Together we will boost this country's jobs-led recovery."
Work and Pensions Secretary Therese Coffey said: "Helping people get any job now, means they can get a better job and progress into a career.
"Way to Work is a step change in our offer to claimants and employers, making sure our jobcentre network and excellent work coaches can deliver opportunities, jobs and prosperity to all areas of the country."