Vegan Activists Storm Steakhouse And Play Audio Of "Screaming Animals"
27 November 2018, 16:18 | Updated: 28 November 2018, 06:48
Vegan activists stormed into a Brighton steakhouse and demanded that diners consider what they were eating.
Members of Direct Action Everywhere, a network of animal rights activists, entered Touro Steakhouse in West Street, Brighton, on Saturday night to hold a protest.
About 20 protestors held up signs with photos of animals that were being served up on the restaurant's menu and chanted "it's not food, it's violence" and "there's no excuse, for animal abuse".
The vegans then played out recorded audio of animals being slaughtered in an attempt to put people off their food.
One of the activists also reportedly gave a speech urging customers to question their food, saying: "No good person could look into the eyes of an animal and think that a meal was more important than their suffering."
The activists persisted for half an hour until they were shut down by diners chanting "you're not singing anymore" and booed out the door. The protesters then continued their demonstration outside.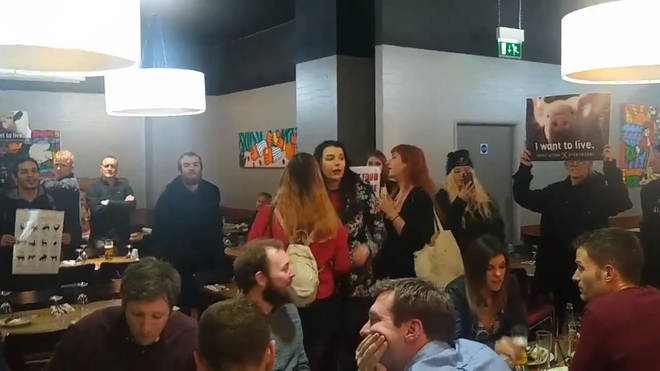 A spokeswoman for Direct Action Eveywhere, said: "In a time where we are experiencing mass environmental destruction, largely due to our unsustainable and unethical food choices, it is paramount that we put our egos and selfishness aside and accept that we are all connected."
"Over 70 billion farm animals are reared for food globally every year, most of these intensively. Animal exploitation has become so normalised it goes virtually unnoticed but we are paying attention. People and businesses should not enjoy the product or profit of animal suffering."
Madsu Sudan Galtam, restaurant manager at Touro Brighton said that "they didn't do anything aggressive" but that the protest was disruptive and "annoying". He said that phone call was made to the police but that they did not turn up.