Your morning news briefing, Monday 18th November 2019
18 November 2019, 06:01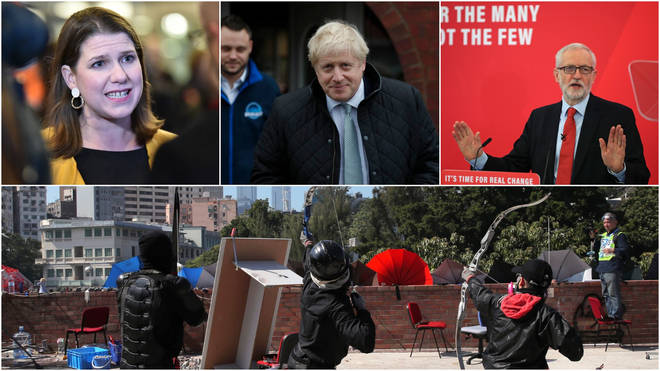 Good morning and here is the latest in UK and world news you're waking up to on Monday.
Let's kick this week into gear, it's Monday and it's EJ here bringing you all the news you need to read.
General Election: T-Minus 24 Days
Election campaigning has now reached the conference and TV debate stage. Later on the Tories, Labour and Lib Dems will all address the CBI annual conference and make their promises to big business.
Boris Johnson will say he plans to cut business rates and cut National insurance contributions by £1,000 for over half a million employers.
Jeremy Corbyn will use the opportunity to focus on apprenticeships creating 320,000 apprenticeships in England during its first term in government.
Jo Swinson will tell the CBI the Lib Dems are the natural party for business because they want to "stop Brexit," and even Boris Johnson will admit to business leaders that he knows big business does not want Brexit.
Meanwhile, Home Secretary Priti Patel launched a scathing attack on the Labour leader Jeremy Corbyn, telling a newspaper he would pose a "chilling risk" to national security if he wins the General Election.
Ms Patel claimed Mr Corbyn and Diane Abbott have "sided with and defended some of the most appalling individuals and terrorist groups."
Ms Patel told the newspaper: "Just the thought of those two in charge of our national security makes me feel ill.
Read the full story by my colleague Megan White here.
Pizza Express Prince
I daresay you will possibly already know this piece of news by now, if you are like me and have breaking news alerts, but Prince Andrew has claimed he does not sweat.
Prince Andrew has been dogged by rumours of his relationship with the convicted paedophile Jeffrey Epstein since the financier took his own life behind bars earlier this year.
On Saturday night the Duke of York gave an extraordinary interview where he revealed the allegations against him could not be true because he cannot sweat
"I didn't sweat at the time because I had suffered what I would describe as an overdose of adrenalin in the Falkland's War when I was shot at and I simply…it was almost impossible for me to sweat."
He also said he was at Pizza Express in Woking on the night he is accused of having sex with a 17-year-old girl.
He said on the night he took "Beatrice to a Pizza Express in Woking for a party at I suppose, sort of, four or five in the afternoon'.
He added: "Going to Pizza Express in Woking is an unusual thing for me to do, a very unusual thing for me to do.
"I've never been… I've only been to Woking a couple of times and I remember it weirdly distinctly."
Bolton Student Flat Fire
A huge blaze broke out at The Cube building in Bolton, Greater Manchester, on Friday night.
The building, which houses more than 200 students at the University of Bolton, did not have the same type of cladding that combusted in the Grenfell Tower fire of 2017 and is fitted with high-pressure laminate (HPL) coloured panels.
But witnesses said what appeared to be a small fire ripped across and upwards within minutes, "crawling up the cladding like it was nothing."
My colleague, and LBC Correspondent, Rachael Venables describes it better than I could.
*Trigger warning* but I need to share this.

The cladding at Grenfell fizzed and popped, and fell down the building like rain.

How on earth are we seeing these pictures again? #boltonfire https://t.co/MTMySrAHOB

— Rachael Venables (@rachaelvenables) November 16, 2019
Hong Kong Protests
Police have stormed a university in Hong Kong after another night of violence, yesterday police were shot at by students armed with bows and arrows, one officer was shot in the let with an arrow.
Anti-government protesters barricaded themselves inside Hong Kong Polytechnic University for days, fighting back with petrol bombs and bows and arrows which saw officers threatening to use live ammunition.
Police surrounded the area on Sunday night and began moving in after issuing an ultimatum for people to leave the area. The crowd wore raincoats and carried umbrellas to shield themselves.
And Finally...
A dress which Diana, Princess of Wales, wore as she danced with Hollywood legend John Travolta is expected to fetch £350,000 when it goes under the hammer next month.
Diana wore the dress a number of times after her visit to America, including during a state visit to Austria in 1986, to a night at the Royal Opera House in 1991 and for a portrait shot by Lord Snowden in 1997.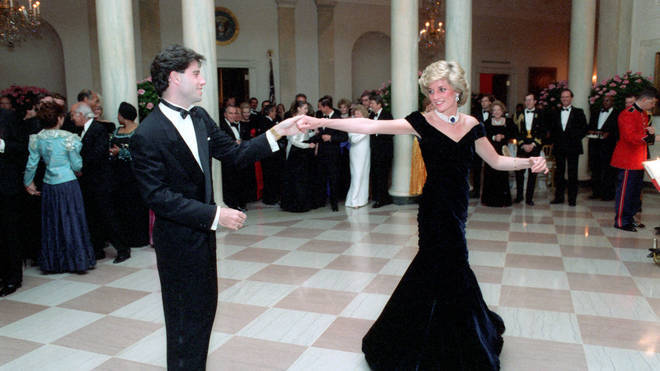 She eventually went on to auction the dress off to raise money for AIDS charities, just two months before her tragic death.
Lucy Bishop, from Kerry Taylor Auctions, said: "This is arguably her most iconic gown, the photos of her being twirled around the dance floor by a handsome John Travolta at the White House caused a sensation at the time, and are still memorable today.
That's it, you're up to date, have a great Monday and I'll be back at the same time tomorrow morning. EJ