Bereaved mother reveals harrowing experience after 'doctor laughed' whilst her daughter died
15 April 2023, 18:52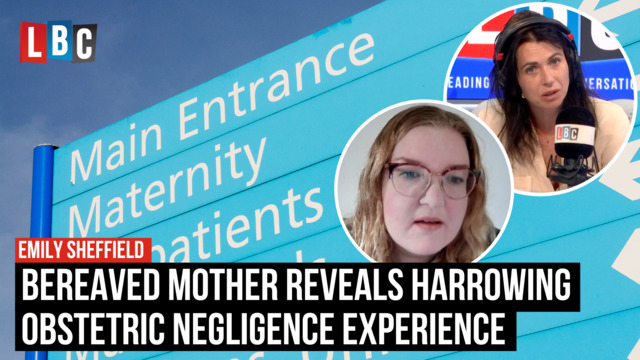 Bereaved mother reveals harrowing obstetric negligence experience
Bereaved mother reveals the horrifying negligence she experienced after "midwives shrugged" when monitors showed that her daughter was dying.
After reports show that the cost of compensating mothers for harm caused by NHS obstetric negligence is double what the health service spends on maternity care, bereaved mother Emily Barley told Emily Sheffield that the "very basics of care" was not given to her or her daughter.
Mrs Barley, whose daughter died during labour, revealed: "It's a story of me not being listened to, it's a story of me being left alone and that is at the heart of why my daughter died - we just weren't looked after properly.
"The very, very basics of care weren't done right and when it came to monitoring Beatrice's [her daughter] heart it showed that she was struggling and that she was dying - that wasn't paid any heed too."
The mother continued: "There was nothing done. The monitor was showing that Beatrice was dying and at the same time midwives were shrugging, a doctor was laughing, and I was pleading for help - and that's how my daughter died."
READ MORE: 'Don't blame the Ukraine war for the nursing shortage': Matt Frei debates with former Health Minister Edwina Currie
The bereaved mother went on to say: "It's devastating... it was the worst moment of my life because Beatrice was dead when she was born.
"It has destroyed me... I find it difficult to function on a daily basis. It's the missing her, that just never stops."
Regarding care post-labour, Mrs Barley said: "You don't really get any. When you look there isn't really anything there for parents suffering any kind of loss, but particularly when it is a loss through negligence it's a really separate thing... and there isn't a lot there, I get support but I have to pay for it privately."
READ MORE: A&E, cancer units and intensive care to be hit for first time in fresh nurses strike on May bank holiday