'Spain Allowing Russians To Refuel Is An Outrage'
26 October 2016, 10:49 | Updated: 26 October 2016, 11:03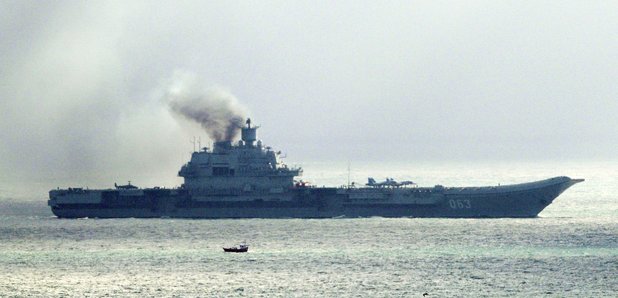 Spain's decision to allow the Russian taskforce to refuel at their African enclave of Ceuta is an outrage, David Mellor writes.
This is tantamount to aiding and abetting the commission of war crimes. And shows what a ghastly muddle Nato is in over Russian aggression in Syria.
Last week Spain, a Nato member of course, signed up to an EU statement accusing Russia of war crimes against the civilian population of Aleppo.
This week they will refuel and re-victual Russia's clapped out warships, to allow them to get to Syria with full tanks, and full bellies, to bomb kids.

Disgraceful or what?

No wonder even a former Belgian Prime Minister Guy Verhofstadt has called Spain's decision "scandalous", and the head of the UN refugees organization has condemned Russia in even stronger terms.
But what is the UK doing about it? Has the Spanish ambassador been summoned to the Foreign Office with a demand that Spain rescind this decision? Has there been public condemnation from the government, entirely appropriate bearing in mind all the rabble rousing rubbish we regularly get from Spain about Gibraltar.
None of the above. So my message to Boris is this; forget about Heathrow, mate, and get on with the day job. If you are angry about the Heathrow decision, you should be beside yourself with rage at the Spanish.
As for the US, I despair. Obama has let Putin off the hook, repeatedly drawing lines in the sand, and when Putin oversteps them, doing nothing. The Russian battle fleet wouldn't be where they are now, and planning what they are planning now, under any other American President since the Cold War.
This Russian aircraft carrier and its accompanying vessels, including a tug to help it out when, as it so often does, it breaks down, is not so clapped out that its aircraft won't kill lots of innocent people. At least, it's got a rudder, and will get there, with a little help from the Spaniards.
It's Nato, the US, the UK and Spain who, on this evidence are morally clapped out, and rudderless.