'I don't care how terrible those attacks were!': Caller criticises Israelis for 'ethnic cleansing'
27 October 2023, 14:36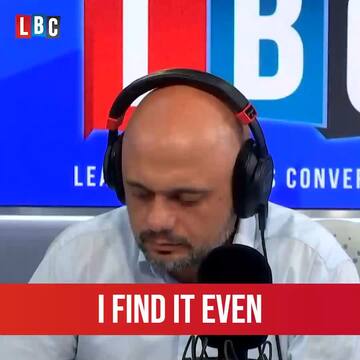 Caller criticises Israelis for 'ethnic cleansing'
Caller James, who is Jewish, told Sajid Javid that it's 'disgraceful' that those who endured the Holocaust are now engaging in 'ethnic cleansing'.
Sajid Javid spoke to caller James after Palestinian flags were taken down from lamp posts following concerns raised with the Metropolitan Police.
Met Chief Sir Mark Rowley has urged stronger counter-terrorism measures after 'jihad' chants.
James asserted to Sajid: "I find it even more shameful and unbelievable. The people who suffered the Holocaust are creating an ethnic cleansing, genocide.
"And I don't care how terrible those attacks were by Hamas, which they were. It does not give you the right to displace and destroy 2 million people's lives.
"And I find it shameful. The West, the British government, the American government, and the French government are allowing this to continue unabated where there are people who have no water, no sanitation, no food, no electricity, no hospitals."
Read more: British-Israeli soldier threw back seven Hamas grenades defending festival-goers, before one blew up in his hand
It comes as Israeli Prime Minister Benjamin Netanyahu vowed on Wednesday evening to "do away with Hamas by destroying its military and governmental capabilities and to do everything within our power to return our hostages home".
"All Hamas militants are doomed, above the earth, underground, within Gaza, and outside of Gaza," he said on Wednesday evening.
Caller James continued: "The Jews should have learned from that...Do not do what was done to you."
Sajid then asked: "What would you do if you were the prime minister of Israel right now?"
James replied: "I would have taken a step back.
"I would not have just gone boom, boom, boom, boom, just like willy-nilly blanket bombing.
"And I would have devised a plan. And the plan really should be and what they are trying to do now - is sending special forces on missions into Gaza and do it that way. But you do not destroy 2 million people's lives and all that."
Read more: 'All Hamas fighters are doomed' vows Benjamin Netanyahu as he promises Israel is preparing ground invasion of Gaza