The use of technology will be key to delivering a safe, secure and successful Coronation
4 May 2023, 06:26 | Updated: 4 May 2023, 09:22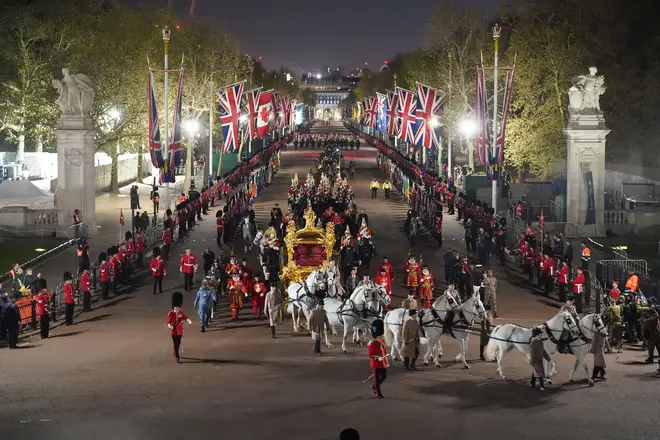 It is not often that the UK, or any country sees an event as high-profile and significant as the King's Coronation on the 6th of May.
The last such event was 70 years ago, and this is the first such event in the digital age. Aside from the obvious reasons, this Coronation is unique at many levels and not least for the challenges and potential threats it faces.
The current threat to the UK from terrorism is 'substantial', the third highest level.
Since 2017, 31 terrorist plots have been disrupted. Counter Terrorism Policing and the UK Intelligence Community work tirelessly to identify, analyse, evaluate, and mitigate around 800 Counter Terrorism investigations at any one time.
This will of course be high on security planners' agenda.
More specific to the Coronation, the anti-monarchist protestors, and how to manage them is also a big and fairly unprecedented challenge.
We've seen large-scale protests at various events recently, like at the Grand National a few weeks back, and much thought will have gone into how to mitigate the risk of protestors on the day.
Managing a public event of these proportions requires a comprehensive approach to safety, security, and service. There has been evidence of crowd behavioural changes post-COVID, causing an increase in crowd-related issues in recent times – the one in Brixton at the O2 Academy in December last year; and the one on Halloween in Seoul, as examples. It is important to factor crowd flow in at every stage of the planning of any event, and especially one this large and important.
The Coronation is not just about the procession itself but the experience before, during and after the event. Clear signposting, effective crowd flow, visible security and medical teams and response units, and traffic management are key to ensuring a positive atmosphere and a memorable occasion for all involved.
Fortunately, the U.K. has significant experience in preparing and operating such events on a very large scale – the Queen's Platinum Jubilee celebrations, the London Marathon recently, and the 2012 Olympics among many others.
With large crowds of people coming to watch the event, it is important to proactively manage the crowds from a safety and security and spectator experience point of view, while also making sure that it doesn't interfere with the experience of it all.
Time, space, and information are the three key elements that planners can influence and will need to manage to mitigate any risks.
And the use of technology will be key to delivering a safe, secure and successful event.
If people have accurate and timely information made accessible to them through technology, they're likely to have a good experience because they will know what to do or where to go, which then also reduces the risks around crowd flow. Similarly, tech-enabled collaborative mapping tools now empower operational and security teams to work together when planning all aspects of major events - ensuring a smooth and efficient run.
Paul Foster is an expert crowd scientist who acts as the subject matter expert for Interpol as well as running his own events site planning company, OnePlan.