Getting knives off the streets is the only way to stop vicious deaths in London, writes LBC's Fraser Knight
3 August 2023, 00:01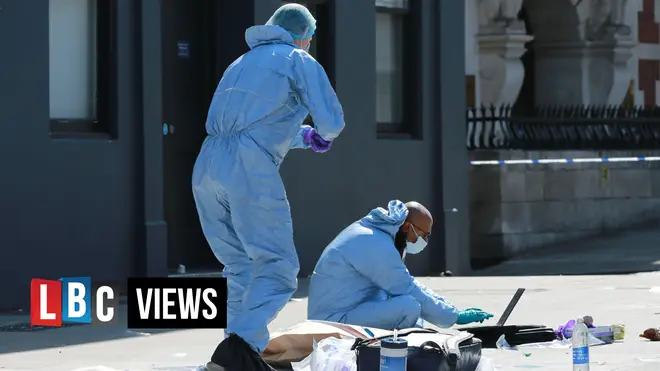 One of London's most senior homicide detectives yesterday declared he believed the force had 'found the sweet spot' of the balance between reacting to and preventing murders in the capital.
Detective Chief Superintendent Neil Cochlin said that with a finite resource, they have to prioritise jobs.
And one of the important ones, he told journalists, is their push to get knives off the street.
The figures so far this year show that 40 of the 65 homicides in London were enabled by a bladed weapon.
That compares to just six which involved a gun – a figure Mr Cochlin said was 'lower than he thought it would be', but put down to preventative work.
But what about knives?
Detectives have raised concerns at a growing viciousness behind attacks, with excessive violence being used, particularly among young people.
Take the case of Jermaine Cools, a 14 year-old boy who was stabbed to death with a machete in Croydon, by a teenager who had a history of carrying deadly weapons.
And it's something the Home Secretary has said needs to be met with a greater use of stop and search powers.
Suella Braverman said she wants officers to have 'greater confidence' in using them.
But lingering over that, is the push to rebuild confidence among predominantly Black communities in London.
Baroness Casey warned the disproportionate use of stop and search against young Black men has essentially left the Met 'policing without consent'.
Even the Commissioner Sir Mark Rowley admitted last month that 'if it's done badly, it burns through trust'.
But what other way is there to make sure the progress on gun crime is replicated when it comes to knives?
Teenagers and men in their 20s are still most likely to be involved in homicide cases in London.
While 38% of victims so far this year have been Black, despite them representing less than 14% of the city's population.
Figures from last year, also show six in 10 knife murder perpetrators were Black.
Not only are Black people being disproportionately stopped by officers, they're being disproportionately killed by offenders.
Preventative action is the best way to bring that figure down and stop and search is an important part of that.
The Commissioner, in his push to reform the force's work, needs to be open about the use of those powers and why they're important if he wants to stop such vicious murders on the streets of London.