The roar of huge waves as ominous clouds closed in: Storm Ciaran batters Britain
2 November 2023, 15:06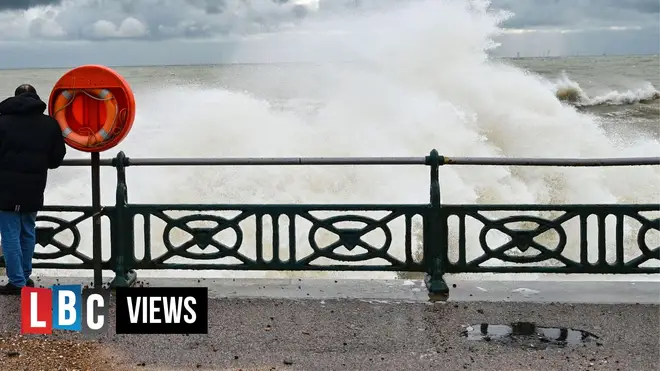 Before catching a glimpse of the huge waves smashing against Brighton's seafront – you could hear their roar as they rolled in, the white foam propelled into the air, and even being some 10 meters away from the seafront you could feel the immense power behind them with a backdrop of a looming deep grey sky - that's when you grasped a real sense of Storm Ciaran closing in right along the south coast.
So much mist and sea spray created by those enormous waves making it difficult to make out Brighton's pier which was being battered every few seconds. The waves also spitting up pebbles onto the seafront which littered the whole of Brighton and Hove's promenades, and the gusts of wind at times, in the most exposed areas, could throw you right off the pavement.
But it was the rain that was so relentless, pummelled down not just in bursts, but consistently for almost twenty minutes at a time before a ceasing for a moment of relief and then starting again. A real darkness in the sky – clouds really looking as if they were carrying the storm into the city.
For drivers the rain causing huge problems, many cars and vans sat crawling along seafront – swerving to avoid huge puddles which had appeared within minutes and dodging sea spray as it smashed against the cafes and restaurants which sit compact just of Brighton's beach.
People who had ventured out for a taste of the storm battled against the wind and rain, holding onto hoods, and tightly to dog leads, many prepared wearing wellies and woolly hats and dry robes and staying away from the menacing sea - but a very slim fraction of walkers out this morning in comparison to an average autumnal morning in Brighton.