Theresa May's government was destroyed by her attempt to negotiate a 'soft' Brexit, writes Andrew Marr
13 September 2023, 17:49 | Updated: 13 September 2023, 18:28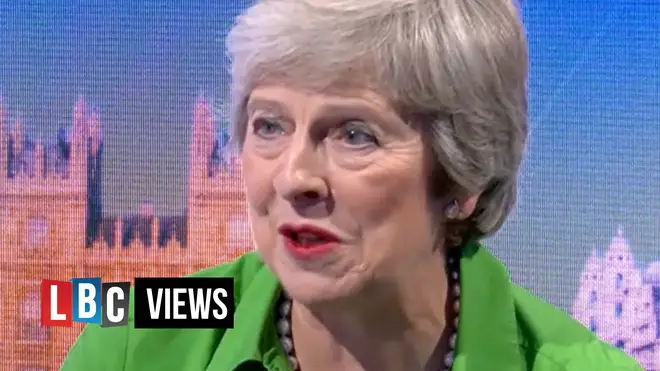 Theresa May's government was destroyed by her attempt to negotiate a "soft" Brexit.
She felt that a narrow 52/48 decision required national compromise. Hardcore remainers disagreed. They wanted another referendum to reverse the decision. Hardcore Brexiteers also disagreed, wanting a no deal exit.
In Parliament, the disagree-ers overwhelmed the compromisers and the May plan collapsed. Had it been otherwise, would we have been spared some of the economic consequences of Boris Johnson's deal? 
Theresa May, who has largely kept schtum since, has told LBC that she believes Johnson did a bad deal, which didn't benefit Northern Ireland and imposed a sea border with Britain .
"My deal," she told me, "would have been better."
Who was to blame? She is uncharacteristically ferocious in her criticism of the former Speaker John Bercow, who she believes abused his position in support of his own remainer views; and some of the Brexiters as well, notably Jacob Rees-Mogg.
She says he tried to persuade her to prorogue Parliament in support of his version of Brexit; and to involve the late Queen in refusing to give royal assent if remainers won – proposals she thought would "take a sledgehammer" to the British constitution, and which she rejected.
Her assessment will be rejected by her critics as that of a sore loser; But the parallel world of a soft Brexit, which did less damage to British exporters, remains a tantalizing thought.
Mrs May sat down with me in the LBC Westminster studio because she has just produced a book, The Abuse of Power. 
Listen to the full interview on Tonight with Andrew Marr this evening at 6pm on Global Player
Unusually for a former Prime Minister, this is not a self-justifying memoir but a polemic about occasions when the state or parts of it let down ordinary members of the public, scandals like the Hillsborough Disaster, the Grenfell fire, the Primados drug affair and the Rotherham child abuse horror. 
She goes back through her own career self-critically, apologising for mistakes such as failing to visit the Grenfell families quickly, and swallowing the media narrative about Hillsborough in the early days.
She told me she thought she had been wrong to use the phrase "hostile environment" about illegal migrants and said that Suella Braverman's use of the word invasion to describe the arrival of the small boats was "not the language I would use".
Speaking in a far more relaxed way than when she was prime minister, Mrs May reflected on sexism in politics, the obsession with her clothes, and the problem that too many people go into Parliament simply expecting to be a Cabinet minister, and then leave politics as soon as they are disappointed. She intends to carry on as a back bench MP. Because she believes in service: at times she sounded as if she had not gone on such a long journey from her early years as a vicarage schoolgirl brought up to mind her language. 
She hides it… but she has a sense of humour. I once accidentally drenched her with ice cold milk and after I came round in intensive care following a major stroke, the first thing I saw on the bedside table was a handwritten note from Theresa May hoping that I would make it back on television very soon "no matter what it may do for my dry cleaning bill".