Former SNP leader Alex Salmond launches new pro-independence party
26 March 2021, 14:07 | Updated: 28 April 2021, 14:52
Former Scottish National Party leader Alex Salmond has launched a new pro-independence party to contest in May's parliamentary elections.
The Alba Party will be a list party under Mr Salmond's leadership, the former SNP chief said.
He added: "Over the next six weeks we will promote new ideas about taking Scotland forward, giving primacy to economic recovery from the pandemic and the achievement of independence for our country.
READ MORE: Nicola Sturgeon survives no confidence vote on her leadership
"We expect to field a minimum of four candidates in each regional list and we're hoping to elect Alba MSPs from every area of Scotland."
Mr Salmond said the aim of the party was to work towards a "successful, socially just, environmentally responsible, independent country".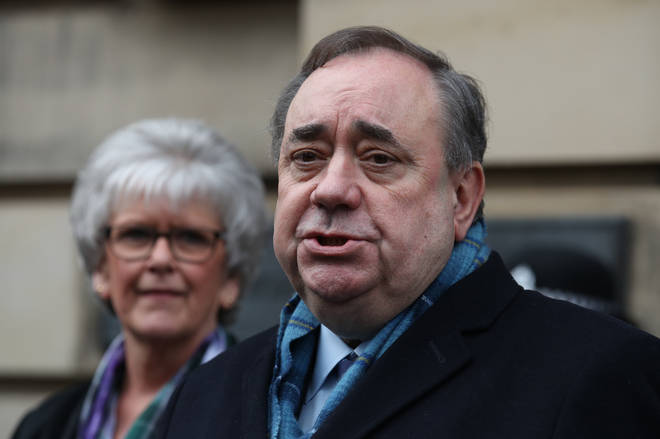 He added that the last Holyrood elections had one million "totally wasted independence" votes on the regional list, but the number could reach 90 with the Alba Party.
"Today, Alba is hoisting a flag in the wind, planting our Saltire on a hill," he said.
"In the next few weeks, we'll see how many will rally to our standard."
A statement from Alba Party founder, Laurie Flynn, said: "Following extensive consultation with good and trusted friends, I registered the Alba Party with the Electoral Commission in January this year.
READ MORE: Holyrood harassment committee concludes Nicola Sturgeon misled Parliament
"A retired television producer with two lovely grown up children and two grand-children, I have as an adult always longed to breathe the air of a free and tolerant, democratic and independent Scotland which celebrates human diversity.
"It's also clear to me that we're very nearly there. In the Scotland that is busy being born, real equality and real opportunity will be available for all.
"And the driving purpose of the state will be good governance, a renewed and redoubled Scottish enlightenment and a definitive end to colonial attitudes to the rest of the world, and the unnecessary wars that have always gone with them."
They continued: "The sole purpose of Alba is to strengthen and deepen the movement for independence through an unstinting generosity of spirit, active and lawful campaigning and the extension of our just and democratic institutions so that they are fit for the 21st century and beyond.
"As the poet Kathleen Jamie beautifully puts it, I am one of those: 'Small folk playing our part. Come all ye, the country says. You win me who take me most to heart.'
"I am delighted to hand over the reins to the former First Minister of Scotland, Alex Salmond. He is the right person to help deliver a supermajority for independence. Yours for Alba, Laurie Flynn."
Responding to the launch of Alex Salmond's new political party, an SNP spokesperson said: "This is perhaps the most predictable development in Scottish politics for quite some time.
"At this time of crisis, the interests of the country must come first and should not be obscured by the self interest of someone who shows no sign whatsoever of reflecting on serious concerns about his own conduct - concerns which, to put it mildly, raise real questions about the appropriateness of a return to public office.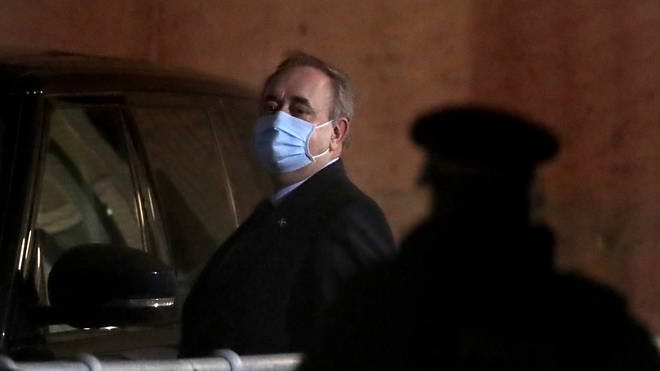 "The SNP has led the country through the last 12 months of the Covid pandemic, and at this election we offer the experienced, responsible and forward-looking leadership that the country needs."
They added: "Our plans to get Scotland through and out of the Covid crisis, and support a recovery with fairness and equality at its heart, with the opportunity to put Scotland's future in Scotland's hands, will be the focus of our election campaign.
"The only way to secure strong leadership, a referendum on independence, and a positive future for the country is to cast both votes for the SNP on May 6."
Scottish Conservative leader Douglas Ross said: "Alex Salmond is a discredited figure who admitted appalling behaviour towards women during his time as SNP first minister and right-thinking people will want nothing to do with him or his new party."
Scottish Labour leader Anas Sarwar said the people of Scotland deserved more than "score-settling" and "old politics".
The Scottish Liberal Democrats chair Alistair Carmichael MP said the announcement was evidence of a feud within the Nationalist movement.