"Bullseye Goldsmith": Sadiq's Zac Takedown
22 March 2016, 10:34 | Updated: 10 October 2017, 13:38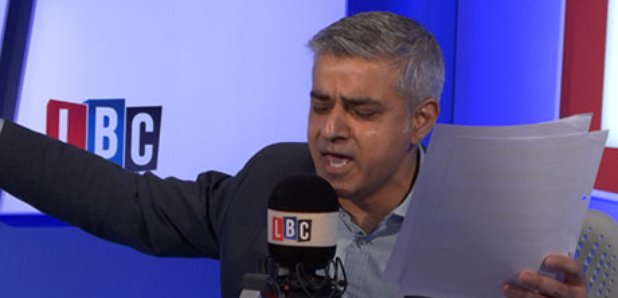 Sadiq Khan yelled "Bullseye Goldsmiiiiiiith" as he turned Zac Goldsmith's own words against him during the LBC Debate.
Mr Khan accused his Conservative rival of wanting to abolishing bus lanes during a lively LBC Debate between the leading London Mayoral candidates.
Those claims were denied, but the Labour man then read out quotes from an interview from Mr Goldsmith on LBC.
He finished his point by shouting "Bullseye Goldsmiiiiiiith", leaving Zac unsure how to respond.
Discussing how to improve London's Black taxis, Mr Khan said: "We've got to build in privilege to help the, rather than abolishing the bus lanes as Zac wants to do."
Mr Goldsmith responded: "I've never said I wanted to scrap bus lanes. Sadiq knows that in fact. When he made that point on Twitter, LBC itself took the unprecedented step of correcting him."
But Sadiq had come prepared. Reading from a piece of paper, he quoted: "LBC. 20th November 2015 on the great Nick Ferrari show.
"'Green cars are the future. We are going to see a massive shift in the cars people own. Within two or three years, there will be no point having bus lanes because everyone is going to be driving these things around.' Zac Goldsmith, LBC. 20th November 2015.
"Bullseye Goldsmiiiiiiith!"
Zac looked confused, saying: "I don't even know how to respond to that last point. I was suggesting a temporary use of the bus lane by electric cars in order to incentivise their use. It's very clear in the quotes."
Watch the remarkable moment here.
Twitter responded with glee at Mr Khan's turn of phrase:
Sadiq Khan's "Bullseye Goldsmiiiith" moment, in a gif #LBCdebate (@hattmarris84 @MartinHoscik) pic.twitter.com/BK4kjwkZHB

— Asa Bennett (@asabenn) March 22, 2016