Callous Thief Caught On CCTV Stealing Poppy Appeal Tin From Pub
6 November 2017, 14:45 | Updated: 17 January 2018, 16:39
A callous thief has been caught on a pub's CCTV brazenly shoving a Poppy Appeal tin down his trousers.
The shocking footage shows the man unhook the collection from the bar at The Dickens pub in Lancashire before putting it down his tracksuit bottoms.
The video has been shared thousands on times on social media following the theft which took place at lunchtime on Friday.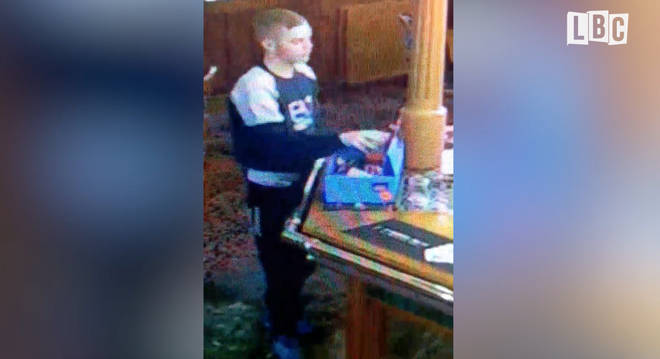 Police are investigating the incident, which life pub landlord Brian Jenkinson appalled.
The 52-year-old told the Blackpool Gazette: "We get a lot of ex-servicemen in the pub and the Royal British Legion is just across the road.
"That box in particular I know contained at least £60 because I put £40 in there myself, and all the staff have been putting in 50 per cent of their tips.
"The veterans need every penny they get nowadays because there's no government funding for them any more."
Lancashire Police told LBC it is still trying to identify the suspect and no arrests have yet been made.