Dangerous Driver Travelling Wrong Way Down Dual Carriageway Refuses To Stop
27 July 2017, 13:33
This is the heart-stopping moment a dangerous driver drove the wrong way down a busy dual carriageway moments after performing a U-turn during rush hour traffic.
The perilous manoeuvre on the 70mph road was caught on PCSO Sallie Lunness' dashcam who sprung into action by attempting to halt the Toyota.
The 43-year-old was pinned against a lorry as Tahir Khalil, 46, attempted to continue his hapless journey the wrong way up the Peterborough carriageway.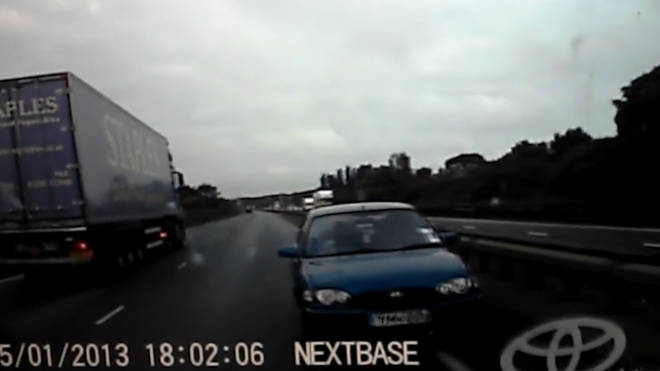 Thankfully, the quick-thinking actions of Ms Lunness enabled her to reach through the window and stop the driver in his tracks.
Khalili was arrested at the scene on June 3 and pleaded guilty to dangerous driving and failing to provide a specimen of breath at Peterborough Crown Court last week.
Judge David Farrell praised the brave actions of described of the PCSO - who has held her post since 2005.
"This was an extremely brave act by the PCSO - she helped avoid what could have been an extremely serious multi-fatal accident," Judge Farrell said.
"If someone had collided with the car at 70mph the consequences could have been horrendous."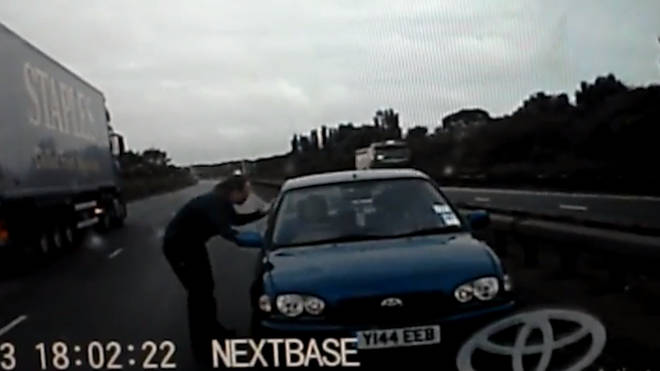 Peterborough Crown Court heard how Ms Lunness had been driving to work at 07:30am when she came across the shocking incident.
She said: "Traffic had stopped, and he was making his way through it. I was banging on his window, but he kept on driving.
"I went round to the drivers side - I could feel the lorry on my back, it was so close.
"Luckily his window was open a couple of inches, and I could reach in and take the keys."
"I think he had missed his turning, and decided to go back to take it."
Khalil will be sentenced next month.