Huntswoman "Whips Saboteur 17 Times" During Furious Clash Caught On Camera
20 November 2017, 17:16
Warning: This video contains strong language.
A woman on horseback repeatedly whipped a hunt saboteur with a riding crop during a furious confrontation caught on camera.
The video shows the rider demanding the man "get off my horse" as she repeatedly strikes the masked protester who tried to grab onto the animal's reigns.
Moments earlier the rider was accused of trying to "charge down" protesters during an apparent clash with the Brighton Hunt Saboteurs on Saturday.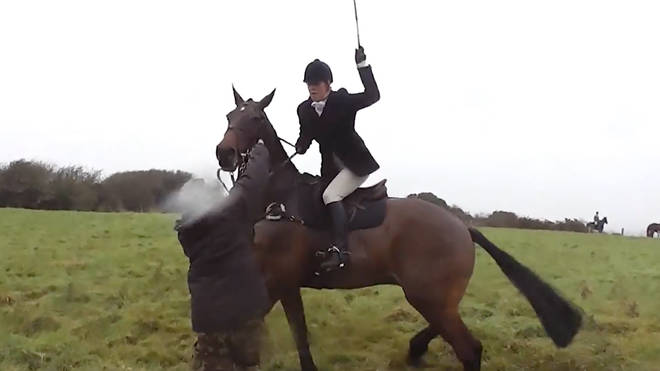 The ugly Footage, filmed on marshland near the village of Pevensey, has been viewed more than 350,000 times after demonstrators posted it on social media.
Saboteurs said they attended the meeting to make sure no illegal hunting took place.
But some commenting on the video suggest protesters provoked the animal and scared it.
Sussex Police is appealing for witnesses to come forward.
A spokesman for the force said: "A third party report of an assault has been made after a man was allegedly struck with a riding crop by a horse rider in Herstmonceux on Saturday (November 18).
"The incident happened in a field off Church Road around 12.30pm. The victim was reported to have received a bruise and bump to the head, but did not require medical treatment.
"The informant was not a witness to the incident, but police have now identified the alleged victim and an investigation is under way.
"Police are aware of a video reportedly showing the incident being available on social media."