Las Vegas Shooting: Video Of Moment Mandalay Bay Gunman Opens Fire
2 October 2017, 08:26 | Updated: 2 October 2017, 18:43
The moment a gunman opened shooting at a country music concert in Las Vegas has been caught on camera.
At least 58 people have died and more than 500 others are injured in the incident at the south end of the Las Vegas Strip in Nevada.
Concert-goers reported seeing muzzle flashes from between the 29th and 32nd floor of the Mandalay Bay hotel, across the strip from the show by country singer Jason Aldean.
That moment was captured by audience member Drew Akioshi.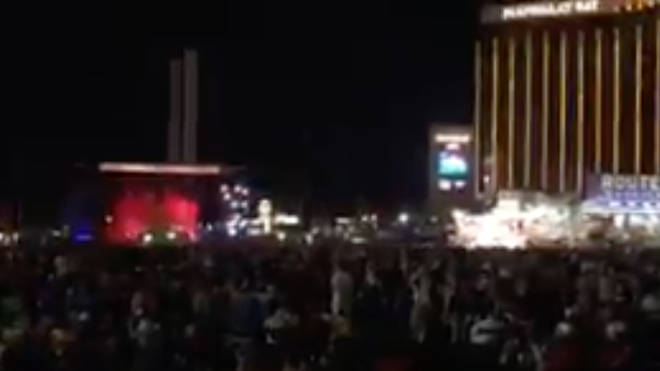 Andy Vieria from KXNT in Las Vegas told LBC: "It's still a fluid situation and it's possible there is a live shooter still on the loose." Police said that one gunman is "down" and they don't believe there is a second gunman.
Police are hunting a "person of interest", who is believed to have helped him.
Witnesses said they saw multiple victims as they fled the gunfire raining down on the concert venue.