Lorry Driver Caught Checking Phone While Resting Foot On Dashboard
6 November 2017, 13:07 | Updated: 17 January 2018, 16:39
Officials have released shocking footage showing a lorry driver looking at his mobile phone while resting his right foot on the dashboard.
The driver was caught on camera by police as he travelled from the M18 on to the M62 near Goole, East Yorkshire.
Highways England says he was one of 4,000 dangerous drivers on England's roads filmed from an unmarked HGV over the past two years.
Head of road safety Richard Leonard described the above footage as "particularly alarming".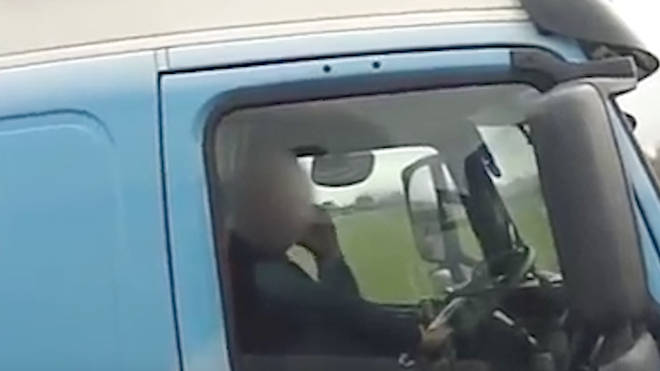 He said: "I dread to think what would have happened if he had needed to brake suddenly.
"We will continue to use the cab to tackle deaths and serious injuries and to encourage people to improve how they drive."
By using an unmarked lorry cab, police can film dangerous driving from an elevated position before pulling the driver over.
The idea has been used by 28 police forces since 2015, with 4,176 drivers so far caught for 5,039 offences.
Officers gave verbal advice to 388 drivers, while 838 were issued with a fixed penalty notice.
A further 3,318 resulted in traffic offence reports, which usually require the driver to attend an education course.
A total of 113 prosecutions were made for more serious offences.