Man With Learning Difficulties Attacked By Gang Of 30 Youths
1 September 2017, 13:14
The shocking video shows a group of 30 youths viscously kicking, punching and stamping on the head and body of a man with learning difficulties.
Warning: The video above contains upsetting footage.
The incident happened at about 8.30pm on Wednesday evening, August 30 on Armada Way in Plymouth, Devon.
An off-duty police officer, who can't be named, viewed the attack and said it could have been fatal.
The video shows the man being knocked down to the floor and then punched and kicked.
The officer said the man in his 30s was knocked unconscious after being set upon by the gang of 25 to 30 teenagers, aged between about 13 and 17.
They fled the scene when the officer and his colleague stepped in.
The officer said: "The man has special needs and I could hear him saying 'leave me alone. I just want to go home'.
"In the video it looks like he was starting on the group, but that's not how it was at all.
"He just wanted to go home."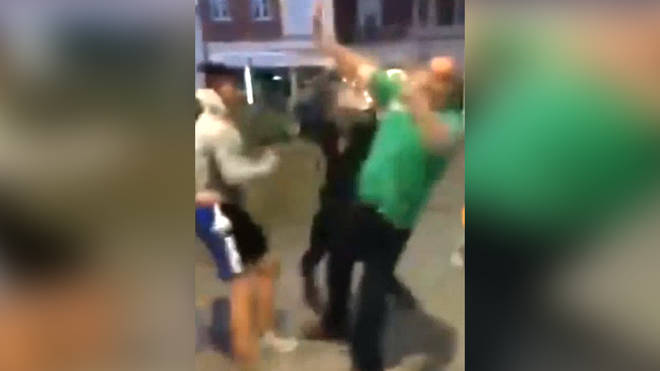 He added: "They were stamping on his head.
"They broke his nose.
"We ran into it to break them up. I managed to grab one of them but four of them starting assaulting me so I had to let him go.
"In my mind I was thinking that he could have been killed if we didn't stop them when we did. It only takes one punch.
"It was horrendous."
Police are now investigating the incident and urge anyone who witnessed the event to come forward.