WATCH: Moment Farage Tips Dead Fish Into River Thames
21 March 2018, 13:41
This is the moment Nigel Farage tipped a number of dead fish into the River Thames during a Brexit protest.
The haddock were flung from a boat outside Parliament in demonstration over the Brexit transition deal which sees Britain remaining inside the Common Fisheries Policy.
It means the UK will not regain full control of its fishing waters until at least after December 2020.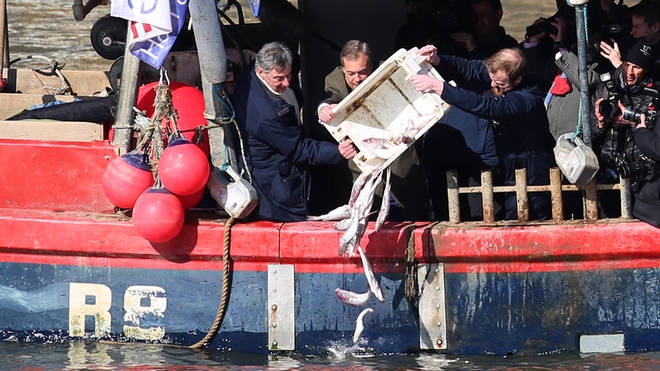 Nigel Farage says that's bad news for the fishing industry, anglers and the environment too.
Onboard a Holladays R8, Nigel said: "Like all small fishing boats in this country, it's struggling terribly with the Common Fisheries Policy.
"They're not allowed to catch the fish that are in our waters. Why? We've given it all away to the foreign fleets.
"And what is Theresa May doing about it? Nothing! So today we've been here with some boxes of haddock that are over quota and we dumped them back into the River Thames."
Watch the moment above.