The Top 10 Moments Of The Nigel Farage Show 2017
18 December 2017, 12:37 | Updated: 18 December 2017, 14:44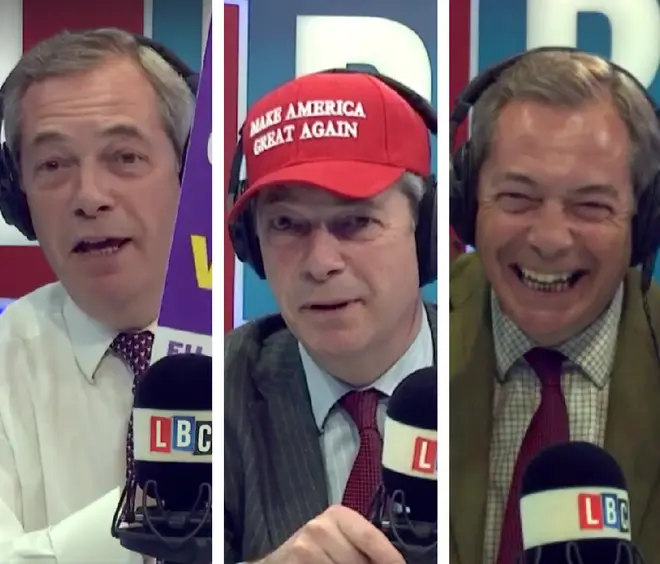 The man at the forefront of the Brexit debate has also spent the year hosting his very own radio show. These are the top 10 moments of The Nigel Farage Show 2017.
1. Nigel Farage's Blistering Response To JK Rowling's "Radicalisation" Tweet
Nigel was left absolutely fuming when JK Rowling accused him of "radicalising" people against Muslims.
2. The Moment Nigel Farage Is Forced Off Air By Security Services
Nigel is often broadcasting from around the world. But while at the Conservative Political Action Conference in Washington he was forced off air due to an unplanned security sweep.
3. Nigel Farage Goes Ballistic At Caller Who Accuses Him Of Colluding With Putin
Rodney accused Nigel of having secret links with Vladimir Putin and the LBC presenter was not happy.
4. Marine Le Pen Tells Farage: Britain Found "Keys To Prison" With Brexit
In an exclusive interview with Nigel for LBC, controversial French presidential hopeful Marine Le Pen spoke of her admiration for Britain's Brexit vote.
5. Caller Tells Nigel He Is A Liar, But Can't Name A Single Lie He's Told
Peter told Nigel he was the "biggest conman in British political history," but then failed to name a single lie the former Ukip leader had told.
6. Nigel Farage: If Brexit Is A Failure, I'll Move Abroad
During this debate with a passionate Remainer, Nigel was so confident in his vote to leave the EU, he said: "If Brexit is a disaster, I will go and live abroad".
7. Father Of Six Jacob Rees-Mogg Has Never Changed A Nappy In His Life
Six-time father and Tory backbencher Jacob Rees-Mogg told Nigel he has never changed a nappy in his life.
8. Hillary Clinton Says She Hates Nigel, Nigel Tells Her To Stop Whinging
When Hillary Clinton attributed some of Donald Trump's success to Nigel he did not hold back with his response.
9. Nigel Farage: Theresa May Needs To Apologise To Donald Trump
Wearing a bright-red 'Make America Great Again' cap, Nigel called on Theresa May to apologise to Donald Trump on behalf of her party.
10. Nigel Farage Honestly Explains Why He'll Cash In His EU Pension
Nigel did not hide his answer when a listener asked him whether he'd cash in his pension for being an MEP, despite his criticisms of the EU.