Full Disclosure With James O'Brien: Ken Clarke
15 April 2019, 12:46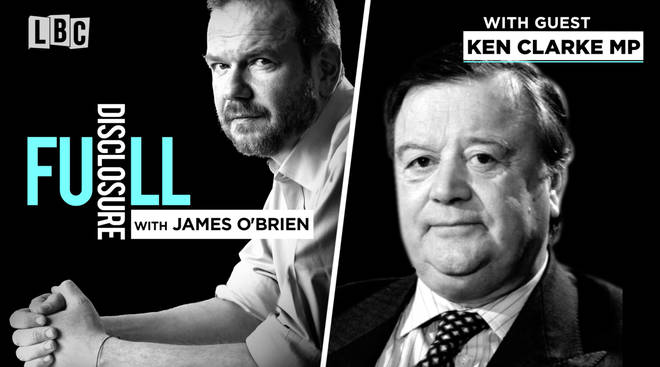 Veteran Conservative MP Ken Clarke is this week's guest on James O'Brien's Full Disclosure podcast.
Listen to Full Disclosure with James O'Brien
The former chancellor and Father of the House is the longest-severing member of the Commons.
In the latest Full Disclosure podcast, Ken walks James through his near-50 years as a Member of Parliament, from the rise of Margaret Thatcher to the fall of parliamentary decorum during Brexit proceedings.
Listen & Subscribe To Full Disclosure
Download the LBC app for iPhone and iPad, via Global Player
Tap here to listen & subscribe on Apple Podcasts
Tap here to listen & subscribe on Google Podcasts
Of course, you can listen and subscribe to Full Disclosure from all your favourite podcast players. Just search for Full Disclosure With James O'Brien.
If you have an Amazon Alexa device you can enable the Global Player skill (by saying "open Global Player or visiting the skill store). Then all you have to do is say: "Ask Global Player to play Full Disclosure With James O'Brien podcast"