Commentator Richard Hoiles defends horse racing after three horses die at the Grand National
16 April 2023, 13:35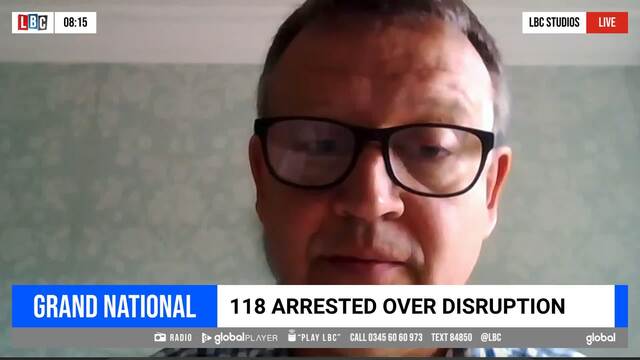 Commentator Richard Hoiles defends horse racing after three horses died at the Grand National
Richard Hoiles has defended the Grand National: "If we're going to have a conversation let's base it on informed facts rather than hysteria."
Andrew Castle asked Richard Hoiles to respond to calls for an end to the sport following the deaths of three horses at the Grand National on Saturday.
Mr Hoiles asked listeners to consider the "implications" of an end to horse racing citing the number of horses in the UK, a total of forty to fifty thousand.
He said that without racing, their "primary purpose" would be removed: "They are born to race that is the point of them coming into the world in the first place."
He continued: "The welfare issues that everyone really needs to address are those by the roadside...horses that are in fields with horses that aren't capable of being kept by their owners.
"If you unleash 50,000 thoroughbreds into the community you would kill far more through honest intention and endeavor than you would in twenty to twenty-five years on the race track".
Read More: Grand National delayed as animal rights protesters breach security's 'ring of fire' and invade racecourse
Read More: Favourite Corach Rambler wins 2023 Grand National following the arrest of 23 protestors
The commentator also pointed to the jobs that the racing industry provides to people who: "find it extremely difficult to work in pressurized environments and find working with horses both therapeutic and massively helpful".
He maintained: "Every death is regretted…but it has to be set against the context of the horse population".
Mr Hoiles then referred to animal rights group Animal Rising, citing information on their website which states that they want to re-wild 70% of farmland and allow horses to roam free.
He said: "Going into stables opening the doors and letting them run free in fields with unicorns under the sunshine is not what it would be about.
"They would all be at the fence calling to come in later in the day to be fed and kept in the manner to which they're accustomed".
He concluded: "It is very uncomfortable, very regrettable...and we have to be proactive in continuing to evolve".