Favourite Corach Rambler wins 2023 Grand National following the arrest of 23 protestors
15 April 2023, 17:50 | Updated: 15 April 2023, 19:18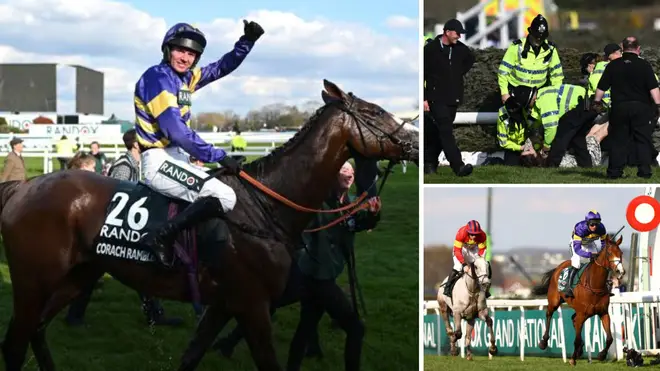 The pride of Scotland, Corach Rambler, was today crowned Grand National champion as protesters failed to halt a race considered to be the pinnacle of the horse racing calendar.
The 8-1 favourite trained by Lucinda Russell and ridden by Derek Fox – who has previously won two Grand Nationals - came from behind to win by two-and-a-quarter lengths at Aintree on Saturday.
Vanillier came in second, with Gaillard Du Mesnil a further four-and-three-quarter lengths back to place in third.
The Jockey Club has since confirmed the death of one horse, faller Hill Sixteen ridden by Ryan Mania, with 17 of the 39 horses finishing the race.
The victory followed attempts by animal rights protestors to bring a stop to the race, eventually delaying the start by 14 minutes as police made 23 arrests.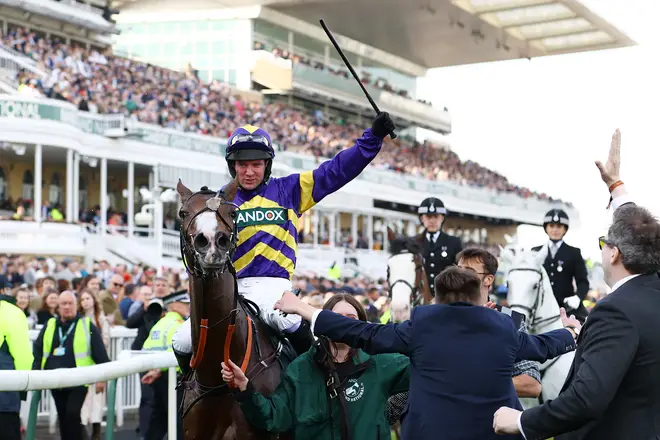 It was an incredible comeback for Fox, who sustained a collarbone injury just 10 days ago, only being passed as fit by the doctor the morning of the race.
Speaking to commentators at ITV racing, winning jockey Derek Fox added: "He is just a phenomenal horse. I can't believe it. He normally gets his head up a wee bit but today he travelled everywhere. He is the cleverest horse. He is so intelligent."
Winning trainer Lucinda Russell added: "So I was in tears as the tapes went up, I cried for most of the race and then as he started [to get into it] I realised he loved it.
Horse Corach Rambler was owned by syndicate - each of whom pay £300 a month for his upkeep - with 21-year-old student Cameron Sword being one of the winners.
Read more: Three arrested as animal rights activists gather at Aintree ahead of 'plot to stop' Grand National
Read more: Man arrested after 'smoke bomb' thrown at Japanese PM just months after assassination of Shinzo Abe
Earlier in the day animal rights protesters breached security's 'ring of steel' to invade the racecourse using ladders, as police were aided by locals willing the race to continue as planned.
The news follows the initial arrest of three people earlier in the day, as a man and two women were detained at Aintree ahead of protestors' plans to halt the Grand National.
Later, the Animal Rising group shared on social media that its demonstrators had run onto the track, "delaying the race indefinitely" and leading to further arrests.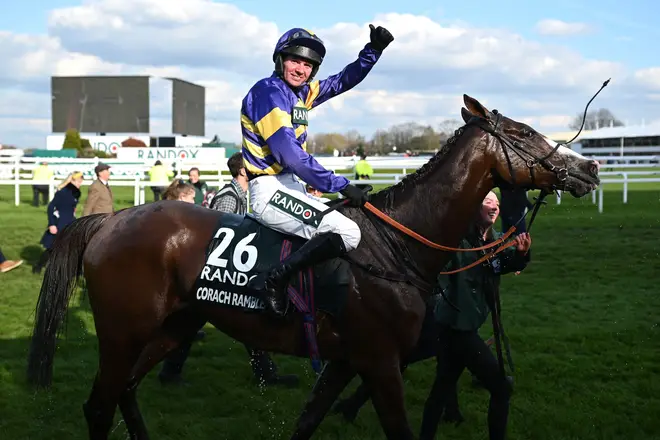 Activists also threatened to block traffic by performing a slow march along Ormskirk Road, the main access route.
Despite this, the ace preparation by jockeys and horses continued, with the main event getting underway as normal despite the disruption.
Announcing the death of horse Sixteen Hill, a Jockey Club spokesperson said: "Sadly, while racing in the Grand National, Hill Sixteen sustained an unrecoverable injury.
"Our sincere sympathies are with connections.
"Recite A Prayer and Cape Gentleman were assessed on course by our skilled veterinary staff and walked onto the horse ambulance for further assessment in the stables."
Two other horses, Recite A Prayer and Cape Gentleman, were checked by vets following falls are were taken for further examination.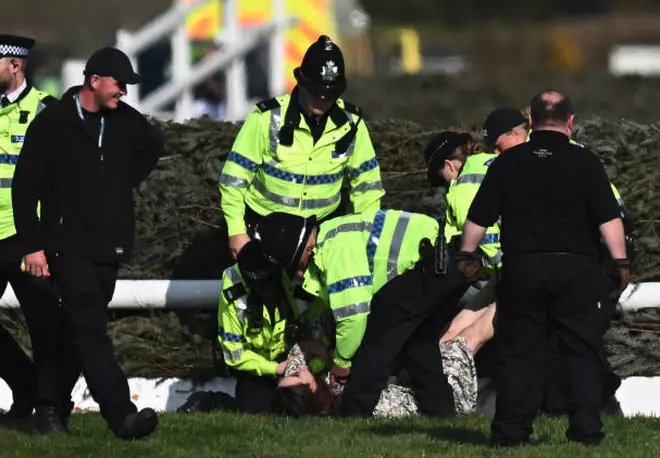 Speaking to LBC ahead of the protests, one independent protester said: "We're here today because this is a long overdue barbarity that should have been outdated so long ago.
"Horses are flight animals - they're not running because they love it."
Three horses have now died at the Grand National Festival, making Sixteen Hill the 62nd horse to die at Aintree in the past 23 years.
The full Grand National 2023 results below.
1 Corach Rambler
2 Vanillier
3 Gaillard Du Mesnil
4 Noble Yeats
5 The Big Dog
6 Born By The Sea
7 Roi Mage
8 Mister Coffey
9 A Wave Of The Sea
10 Le Milos
11 Our Power
12 Enjoy D'Allen
13 Fortescue
14 Carefully Selected
15 Minella Trump
16 Francky Du Berlais
17 Ain't That A Shame