Man arrested after 'smoke bomb' thrown at Japanese PM just months after assassination of Shinzo Abe
15 April 2023, 08:06 | Updated: 15 April 2023, 08:32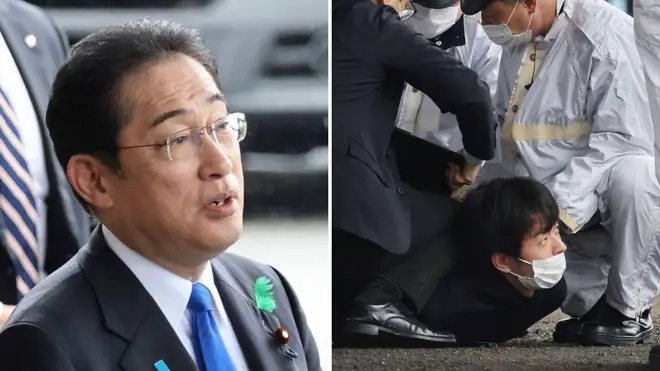 Japanese prime minister Fumio Kishida was forced to make a swift exit after a loud explosion occurred at a western port on Saturday.
Mr Kishida was about to give a speech cheering on his ruling party's candidate in a local election at the Saikazaki port when the pipe-like object believed to be a smoke bomb was thrown.
He was unharmed and evacuated to the Wakayama prefectural police headquarters, according to local media.
A man believed to be a suspect was arrested at the scene, and footage from Japan's NHK television showed several uniformed and plainclothes police officers gather around him, pressing him to the ground and dragging him to the side.
Tihe suspect, identified only as a young male, allegedly threw the explosive.
Read more: France on fire again: Violent protests erupt after Macron's bid to raise retirement age approved by top court
Read more: 'I love you dad': National guardsman Jack Teixeira shouts in court as he's charged with leaking Pentagon documents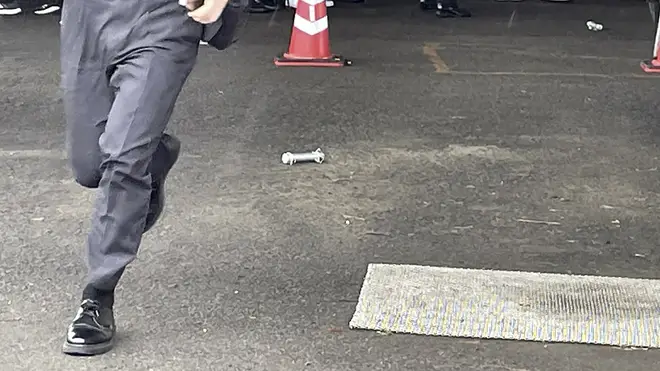 One witness said that she was among the crowd and saw something come flying from behind and that there was a sudden loud noise and she fled with her children.
Another witness said people were screaming and that he saw someone being apprehended right before the explosion occurred.
The incident comes only nine months after Mr Kishida's predecessor, Shinzo Abe, was assassinated while delivering a campaign speech in the western city of Nara.
The assassination shocked the nation and a subsequent investigation found holes in Mr Abe's security, and led to reinforcement of Japan's police security measures.
The attack also comes as a series of Group of Seven ministerial meetings begins this weekend ahead of the May 19-21 summit that Mr Kishida will host in Hiroshima.