Three arrested as animal rights activists gather at Aintree ahead of 'plot to stop' Grand National
15 April 2023, 12:43 | Updated: 15 April 2023, 12:47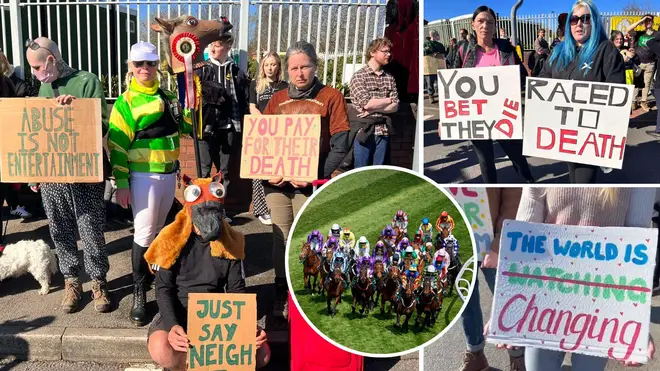 A man and two women have been arrested as animal rights activists gather at Aintree ahead of plans to halt the Grand National.
A 25-year-old woman from London was arrested at about 11.20am on Saturday while a man was arrested around 30 minutes later.
Another woman, aged 33, from the London area, was arrested in Greater Manchester earlier on Saturday in connection with potential co-ordinated disruption activities at Aintree racecourse.
It comes after climate and animal rights group Animal Rising announced plans to scale fences and enter the track - with up to 300 activists - to prevent the race from starting.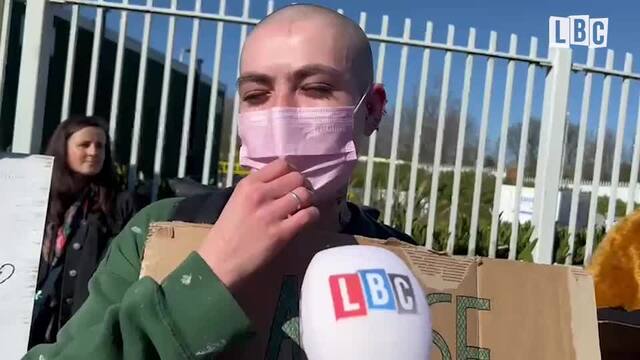 Protesters gather outside Aintree
Activists also said they would block traffic by performing a slow march along Ormskirk Road, the main access route.
Around 30 animal rights protesters gathered outside Aintree Racecourse on Saturday morning.
Read more: France on fire again: Violent protests erupt after Macron's bid to raise retirement age approved by top court
Read more: A&E, cancer units and intensive care to be hit for first time in fresh nurses strike on May bank holiday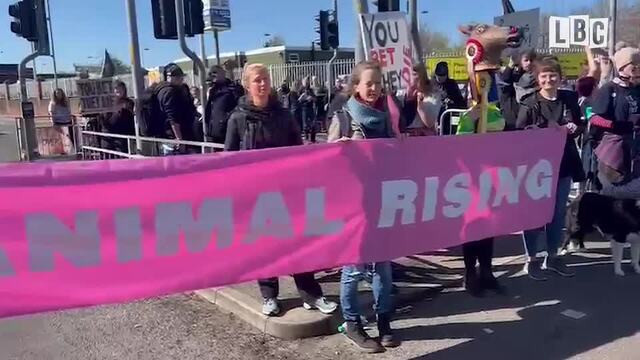 Speaking to LBC, one independent protester said: "We're here today because this is a long overdue barbarity that should have been outdated so long ago.
"Horses are flight animals - they're not running because they love it."
Another person demonstrating outside the racecourse added: "It's systematic - people are encouraged to attend these events and constantly abuse animals in this way.
"We need systematic change, we need to reconnect with nature, with animals and rebond again.
She continued: "If they did really know all the hardship, the suffering and the abuse that these lovely beings go through for this event I hope they would feel the same way."
Dora Hargitai, 37, a volunteer with Animal Rising, said: "I do believe we can have non-violence on both sides.
"The race has to stop. Today and forever."
Claudia Penna Rojas, from the same group, said: "We will be slow marching around the perimeter and at some point we may peacefully try to make our way towards the track, again to prevent this race from happening because we know horses are being harmed."
She added that if activists did get onto the track it would not be while horses were running because they did not want to put them in danger.
Police have said they have a "robust" plan in place and are working with Aintree's owners to prepare for any chaos that ensues.
A spokesperson for Merseyside Police said: "Merseyside Police has a robust policing plan in place for Aintree, as it does for any major public event, to ensure the safety and wellbeing of everyone involved.
"We have been working with our partners, including The Jockey Club, for a number of months in the build-up to this year's festival to ensure that any necessary plans and processes are in place to deal with any incidents that may arise and to prevent any significant or ongoing disruption to racegoers and local residents and businesses.
"We respect the right to peaceful protest and expression of views, but public order or criminal offences will not be tolerated and will be dealt with robustly."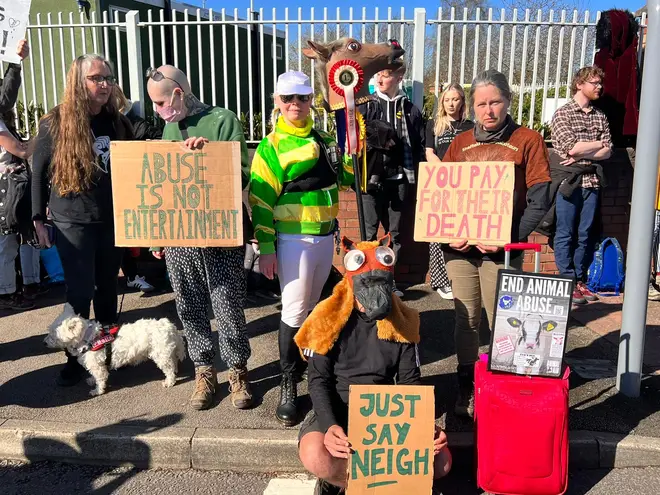 One horse has died at the Grand National Festival - Envoye Special, ridden by James King - after it fell in the Foxhunters' Chase just after 4pm on Thursday.
It is the 60th horse to die at Aintree in the past 23 years.
An Aintree Racecourse spokesperson said: "We respect the right to peaceful protest but sincerely hope that Animal Rising reflect on whether their proposed actions are legitimate and responsible.
"Their actions could endanger the horses they purport to protect, as well as jockeys, officials and themselves.
"As you would expect, we are working closely with Merseyside Police to ensure we protect the safety and enjoyment of everyone, including all participants, human or equine, at the Grand National."