Nigel Farage's Instant Reaction As Theresa May Demands Respect From EU
21 September 2018, 14:37 | Updated: 21 September 2018, 15:00
Nigel Farage has given his instant reaction to Theresa May's Brexit statement, telling LBC it's the first time the Prime Minister really believed "no deal is better than a bad deal".
The Ukip MEP also hit back at Emmanuel Macron's recent outburst in which he described Brexiteers as "liars", calling the French President a "ghastly little man".
On Friday the Prime Minister issued a statement from Downing Street in which she demanded respect from the EU.
Her remarks follow criticism of her Chequers plan from EU leaders at the Salzburg summit on Thursday.
"Throughout this process, I have treated the EU with nothing but respect. The UK expects the same," Mrs May said on Friday.
Giving his reaction to Andrew Castle, Nigel said the PM sounded "strong".
But he warned her comments would be "brushed aside" by EU leaders.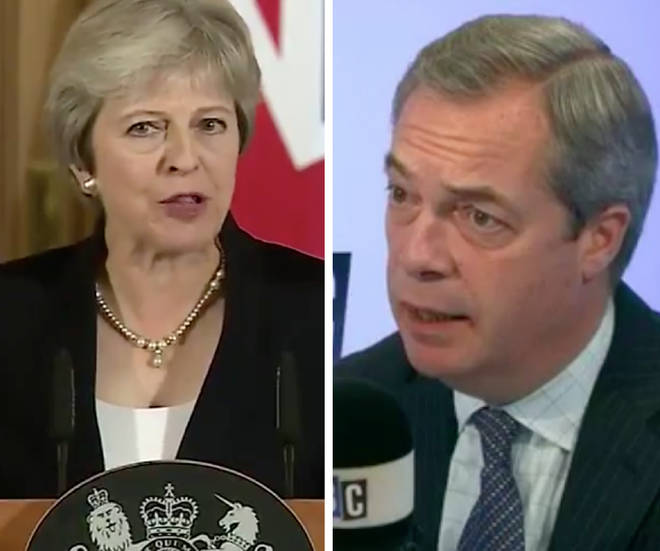 He said: "I think that it is pretty clear now that the Macrons, the Tusks, the Junckers are trying to make any deal so difficult, so humiliating for the British government that they're working hand in glove with the campaign in this country that want a second referendum."
Mrs May once again ruled out the prospect of another public vote on Brexit.
The Prime Minister said: "The referendum was the largest democratic exercise this country has ever undergone. 
"To deny its legitimacy or frustrate its result threatens public trust in our democracy."