Ben Wallace steps down: Former Defence Secretary's best LBC moments
31 August 2023, 11:45 | Updated: 31 August 2023, 13:28
Ben Wallace's best LBC moments
Now that Ben Wallace has formally quit as defence secretary, LBC looks over his most memorable on air moments while in the role.
Ben Wallace was Secretary of State for Defence from 24 July 2019 to 31 August 2023. During his time as Defence Secretary he maintained a strong rapport with LBC appearing, often on Nick Ferrari's show, many times.
Mr Wallace was promoted to the senior cabinet role after Boris Johnson became Prime Minister and continued the role under Prime Ministers Liz Truss and Rishi Sunak. This makes him the longest serving member of the current UK Cabinet to work continuously in the same position.
Over his four years as defence secretary, Mr Wallace covered some of the most influential defence moments - from Britain's involvement in the withdrawal from Afghanistan in 2021 to the war in Ukraine. He played a crucial role in supplying and supporting Ukraine's' military against Putin's Russia.
Ben Wallace will be hailed as one of the most prominent defence secretaries of all time, with many pointing to his own military background as evidence of his expertises. He was commissioned into the British Army's Scots Guards at the age of 20 and, during the 1990s, served in Northern Ireland, Germany, Cyprus and Central America.
In August 2021, Ben Wallace fought back tears whilst discussing the fate of British troops fleeing Afghanistan - following the dramatic fall of the country's Western-backed government to the Taliban.
'Some people won't get back' Defence Secretary chokes up over Afghanistan
Visibly breaking down, the former Defence Secretary said he had "regret" that "some people won't get back."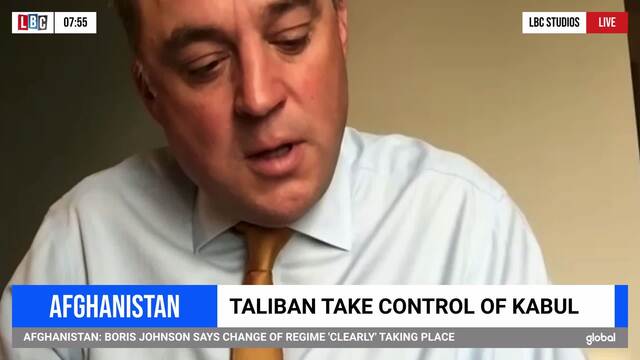 'Some people won't get back' Defence Secretary breaks down over Afghan
Nick Ferrari had a shock when Ben Wallace pulled the line, "That's bollocks, Nick" in response to claims that former Royal Marine Pen Farthing had been 'cut off by the MoD' and left 'to fend for himself' in Afghanistan.
'That's bollocks': Defence Secretary dismisses claims ex-Marine has been 'abandoned'
The Defence Secretary dismissed the claims with some robust 'military language'.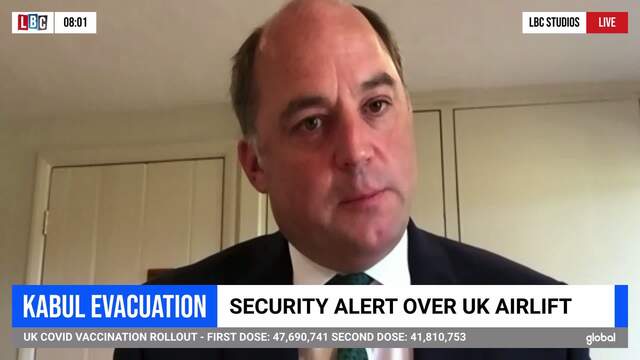 Defence Secretary dismisses claims made by former Royal marine
During the 'Spare' controversy, Ben Wallace told LBC that Prince Harry was "boasting" about how many Taliban he had killed - which was not playing a 'team game'.
Defence Secretary Ben Wallace accuses Prince Harry of 'boasting' about killing 25 Taliban fighters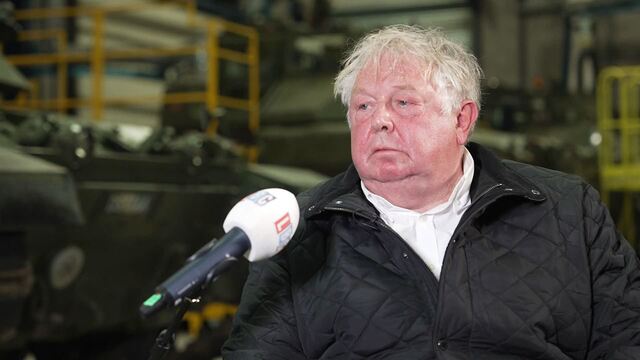 Defence Secretary has criticised Prince Harry for 'boasting' about killing 25 Taliban fighters
After Boris Johnson labelled Putin 'crazy' and 'macho', Ben Wallace told Nick Ferrari he believed the Russian dictator was suffering from 'small man syndrome'.
Putin a 'lunatic with small man syndrome' says minister as PM blasts 'toxic masculinity'
Mr Wallace said: "If you want a perfect example of toxic masculinity, it's what he's doing in Ukraine."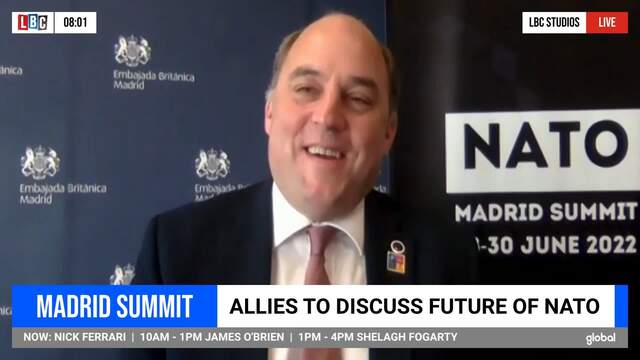 Putin is suffering from small man syndrome, Wallace says
Here's Ben Wallace's resignation letter in full:
"Dear Prime Minister,
"Last month marked my fourth year as Secretary of State for Defence. It also marks the ninth year as a minister. I have had the privilege of serving you and your predecessors in the task of protecting this great country and keeping its citizens safe. As you know that responsibility carries with it a 24/7 duty to be available at almost no notice. In my time as both security minister and at Defence, I have been able to contribute to the Government's response to a range of threats and incidents.
"From Wannacry, the 2017 terrorist attacks, the Salisbury Poisonings, Afghanistan, Sudan and Ukraine, it has been an honour to serve alongside the men and women of our armed forces and intelligence services who sacrifice so much for our security.
"The last four years has seen our armed forces and their leadership shine through. Whether it was the evacuation of Kabul, our Covid response, Ukraine or Sudan, the professionalism of our people has been first class.
"The investment you made in Defence as Chancellor and the continued support you have shown as Prime Minister has been key to enabling the Ministry of Defence to deliver for Britain. I am personally very grateful for your leadership.
"As I finish my tenure, I can reflect that the Ministry of Defence that I leave is now more modern, better funded and more confident than the organisation I took over in 2019. As well as being active around the world we have also invested in prosperity at home. I am proud that I have secured GCAP, AUKUS, NCF, national shipbuilding and the Defence and Security industrial strategies that will secure thousands of British jobs for our young people many years into the future.
"The Ministry of Defence is back on the path to being once again world class with world class people. The United Kingdom is respected around the world for our armed forces and that respect has only grown more since the war in Ukraine. I know you agree with me that we must not return to the days where Defence was viewed as a discretionary spend by Government and savings were achieved by hollowing out.
"I genuinely believe that over the next decade the world will get more insecure and more unstable. We both share the belief that now is the time to invest. Ever since I joined the Army I have dedicated myself to serving my country. That dedication however comes at a personal toll to me and my family.
"After much reflection, I have taken the decision to ask that I be allowed to step down. I won my seat in 2005 and after so many years it is time for me to invest in the parts of life that I have neglected, and to explore new opportunities.
"Thank you for the support and your friendship. You and the Government will have my continued support.
"Yours sincerely,
"The Right Honourable Ben Wallace MP"