'The coronation brings us all together,' argues Andrew Castle caller
15 April 2023, 10:21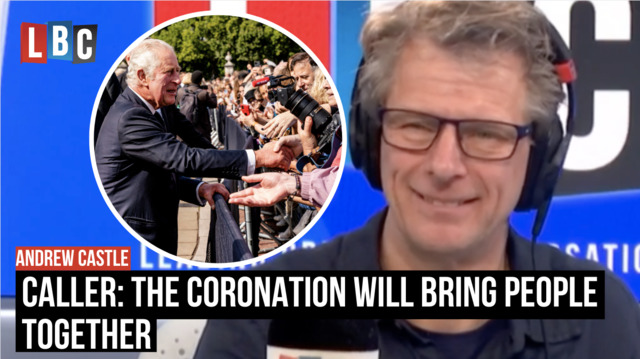 Coronation will show the world Britain's 'pomp and circumstance'
This caller makes a passionate case for why King Charles III's upcoming coronation should matter to the nation.
In a discussion with Andrew Castle about whether the coronation matters to ordinary members of the public, Judy in Colchester argued "there'll be lots going on everywhere."
She described how the village where she lives will be putting on a fête complete with a live band, a marquee and a cream tea.
"It brings us all together," Judy told Andrew, saying "it's a treat to have something nice to celebrate."
Andrew replied that he's "cynical" about the coronation, but conceded maybe he "shouldn't be."
Judy invited Andrew and his wife to her village, saying "it's a community effort where we all help in our own way."
READ MORE: James O'Brien lambasts those who claim to 'love their country' while voting in 'saboteurs and arsonists'
She also thought the coronation was bigger than the procession and the new King being crowned. "There's one thing we can do right in this country and that's our military precision. The procession and the pomp and circumstance – that's what we do well."
Judy said watching Britain do what it does best will give her "goosebumps."
The coronation of King Charles III and the Queen Consort will take place on Saturday 6th May.